Hi, I'm Maria and I work at AkzoNobel as a section leader in the wind division team.
What is a section leader, wind?
I work on developing new and innovative coatings for wind turbine blades for use on land and at sea. I also manage a team of five people and we work with our factories, sales team, customers and other technical departments on new and existing products.
I collaborate with universities and test institutes all over the UK and EU on research projects. Our aim is to investigate erosion and degradation on wind blades, how we can prevent it, but we also want to predict how it happens so we know when a repair needs to take place.
Coatings are coverings or films that are applied to the surface of objects. They can be decorative, such as the branding on an aeroplane or the paint on your walls. They are also functional, such as the coatings on bridges to prevent them from rusting, coatings on oil pipes to increase their temperature resistance to the oil flowing inside – even the seal on your bath is a coating which prevents water leaking through.
How does your work affect the world around us?
The UK offshore wind target must be at least doubled to deliver net-zero carbon emissions and I am developing the next generation of coatings which can contribute towards delivering this.
Wind turbines are the most efficient technology to produce energy in a safe and sustainable way. My work is helping to create more renewable energy for longer by providing coatings that ensure the wind turbine blades can resist erosion and UV degradation. Our coatings give the turbine blades a lifespan of 25 years!
Our products 'contour' the wind blade which aids its efficiency and protects it from damage such as erosion from rain or hail. The coating also helps to give the blade its matt appearance which prevents sunlight reflections that would distract or blind pilots.
Our coatings are also developed to be as 'green' as possible. This means we work with water based technologies or use raw materials which are biobased, ie partially or completely made of renewable raw materials.
Minimum qualifications: For graduate roles, a 2:1 in any scientific discipline is required. AkzoNobel have an apprenticeship scheme where you start with A-levels (or equivalent) and they fund and support you to do your degree part time whilst gaining valuable experience working in industry.
*For technical assistant roles, GCSEs (or equivalent) and some lab experience are required.
Starting salary range: £27–29,000 for graduate level roles
What is your typical day like?
A typical day includes interacting with our factories, sales team, customers and other technical departments. My team and I work on a global scale supporting customers from Europe, US, China and India.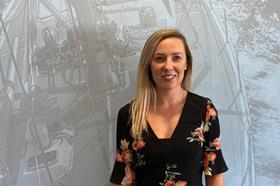 Some days, I might spend time in our factory training operators how to manufacture the coatings that I have developed. I write the instructions and supervise the operations to make sure the raw materials are added correctly and processed in the right way. They need to be mixed at the correct speed or heated to the right temperature, then matched to the correct colour for the customer. One time, I watched the paint I made on a 500ml sample be scaled up to 10,000 litres.
I also spend time speaking to our sales team, customers and suppliers. It's essential that I understand their needs to help develop the next generation of coatings. Product launches are one of my favourite parts of a project; there is nothing quite like seeing your paint being applied by a customer on a blade. It gives a huge sense of accomplishment knowing all my hard work has paid off but also knowing I am contributing towards a more sustainable future in the process.
What skills do you use?
Attention to detail and the ability to communicate is a key skill in my role as I am often explaining tasks and processes to others.
The ability to problem solve is also critical as things don't always go smoothly on the first manufacture, so you need to be able to identify problems and solve them as quickly as possible. You also need good listening skills.
Project management skills are important in developing new products – this includes communication with key stakeholders such as marketing, sales and suppliers but also being able to take the technical lead and get us to the right product at the end.
What inspired you to work in chemical science?
Science has always been an interest of mine from a young age. Initially, it was difficult to figure out exactly what area I wanted to work in. Studying science during my GCSEs and A-levels led me to a degree in forensic science. After completing my forensic science degree in Newcastle, I was keen to stay in this area so I focussed my search locally. I knew that I wanted a role which was hands-on and practical, so I focussed on applying for jobs in larger industries and manufacturing rather than anything based in research or academia and that was where coatings and AkzoNobel came in.
What do you like most about your job?
I enjoy the interaction with customers and working with our teams across the world, who share my vision of a more sustainable future. Nearly every country in the world has a wind turbine so the possibilities are endless.
I thrive under pressure and enjoy coming up with solutions for our customers. My role is fast-paced as I need to deliver solutions to our customers in short time scales.
I also enjoy managing a team and seeing people and the company grow.
How did your qualification help you get your job?
I was lucky that my course at university included some polymer modules. Polymers are natural or synthetic molecules which join together and are one of the key ingredients in a coating. I also studied some modules specific to coatings which taught me the other key ingredients in a formulation such as colouring pigments and solvents.
I only had a very basic understanding of what coatings were before I started but that didn't matter as AkzoNobel run a two-year graduate training programme which taught me everything I needed to know.
Whether it is learning to write technical reports or carrying out experiments, I do believe that all the skills I learnt at university were transferrable to industry. Even the social aspect of university helped me integrate into a professional environment and work well in a team. I learnt how to prioritise and work on multiple projects or reports at university. All the deadlines always seemed to happen at the same time and this was good training for the role I have today where I have to juggle multiple projects.
What advice would you give to a young person considering a career in chemical science?
Don't be afraid to just send an email or call a company directly to ask if they have any jobs available.
If you think chemistry is for you, try out a summer job or 12-month placement to find out if it is something you are interested in. At the very least, it will help to have some experience on your CV for future interviews!
AkzoNobel have 12-month industrial placements and a 12-week summer position.
Want to know more?
First published September 2021