Xameerah talks about how she provides the UK Government ministers with specialist advice on science and science policy to inform their work and policies
What is a senior committee specialist?
I provide advice on science and science policy to a committee of MPs from different political parties or groups. The committee's main role is to inspect the work of the Government Office for Science. In practice, the committee examines the work of several Government departments and public bodies, mainly through inquiries that produce policy recommendations for the government to respond to. My current job is to manage these inquiries and give specialist advice to committee MPs and colleagues.
What do you do in your job?
I manage inquiries, which involves finding out about new topics, doing research at my desk, analysing evidence, organising evidence sessions and private meetings, briefing committee members, managing visits and drafting reports. I also advise colleagues on their inquiries and manage a small number of staff. Managing inquiries takes up around 90% of my time. I have to keep my specialist knowledge and contacts up to date so I attend policy events, have regular meetings with experts and read relevant publications (newspapers, specialist magazines etc.). In addition, I have some responsibility for the learning and development of other specialists in Parliament. I work in an office in Westminster most of the time, and occasionally travel elsewhere for meetings, committee visits and events. Travel is mostly within London and the UK, but the committee sometimes travels abroad. For example last year I accompanied the committee on a visit to Germany.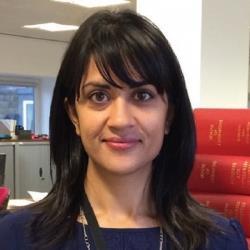 What do you enjoy most about your job?
Drafting reports is the most exciting part of my job as it involves analysing evidence, discussions with committee members and creative thinking about recommendations. It is the result of an inquiry and also the most visible part of what the committee does, as reports are published and can get a lot of public and media attention. I also love working for the House of Commons and learning more about how it works as an insider, as well as the direct contact with MPs, scientists, civil servants and other interesting people.
What attracted you to your career?
Although I didn't want to continue with a career in research, I wanted to use my scientific background to inform and influence decision-making in a high profile policy environment.
How did you get into your job?
After gaining A-levels in biology, chemistry, geography and art, I completed an MChem (Hons) chemistry degree at the University of Southampton. After graduation, I began working as a research chemist at Syngenta and then moved on to the graduate trainee scheme at the Royal Society of Chemistry. Having become interested in policy work, I got a job as a policy advisor at the Royal Academy of Engineering and after two years in that role I got a job as a committee specialist for the House of Commons Science and Technology Select Committee. I have been in my current job for four years and was promoted to senior committee specialist last year.
What are the opportunities for career progression?
Within Parliament, the opportunities are limited if you want to remain a science specialist, but we have great links with the civil service where there are more science policy career options at similar and higher pay grades. Plus, experience working in Parliament is usually useful for many other policy jobs.
What advice would you give for people wishing to enter your career area?
It can be difficult to get into science policy because job opportunities can be limited. Doing work experience and internships are a useful way in, and many organisations offer schemes for scientists to get into policy, including the Royal Society of Chemistry and Parliamentary Office of Science and Technology (POST). However, I would also advise people to contact organisations directly and ask if there are any work experience opportunities rather than waiting for vacancies to be advertised. Some organisations will be willing to take on people who want to get some work experience and take the initiative to ask. It can also be very useful to work for an MP although it is worth bearing in mind that many policy jobs in parliament and government require political impartiality.
First published 2010