Learn Chemistry, the RSC's hub for chemistry teaching and learning resources, has been selected as a finalist for the 2013 Bett Awards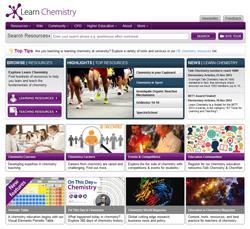 The Bett Awards are considered to be the most prestigious in the education sector, and are designed to celebrate the distinctive and diverse digital education resources market. Bett is Europe's largest educational technology show. The exhibition is attended by thousands of teachers and government ministers from dozens of countries, attracted by the UK's high reputation for excellence in education technology.
Nicole Morgan, RSC schools and colleges manager, said: 'We're incredibly proud of this achievement for a site not yet a year old. If you're learning or teaching chemistry, at any level, our goal is to be the first place you visit for tools, resources, training activities and outreach materials'.
Caroline Wright, chair of the judging panel, said: 'Despite schools now realising that they do have strong available budgets, teachers are becoming more shrewd in assessing the aptness of products for their specific needs. Products therefore need to be of the highest standard to ensure that, aside from the initial purchase price, the total cost of ownership is low. This is what the judges have identified - products that offer the highest quality and are fit for purpose. These Bett Award finalists are certainly companies that schools can safely consider to be amongst the best available.'
Learn Chemistry has been shortlisted within the ICT Tools for Learning and Teaching category. Other nominees include the Royal Shakespeare Company (for Teaching Shakespeare), Melvin Eng (for Physics in Crisis: Downtown Pandora) and Generic Maths Ltd (for ConquerMaths).
The winners will be announced at a dinner on Wednesday 30 January 2013. To see all the shortlisted products, visit the Bett Awards website.