The Science Council has launched the RSciTech and RSci registers to help recognise high standards of professionalism at all levels of science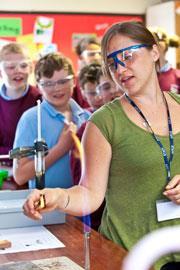 The Registered Science Technician (RSciTech) and Registered Scientist (RSci) designations sit alongside the existing Chartered Scientist (CSci) and Chartered Science Teacher (CSciTeach) awards. Entry standards are based on a combination of knowledge and understanding, professional competence and commitment to professional ethics, conduct and continuing professional development (CPD).
Candidates can meet the requirements through a combination of existing qualifications (eg A-levels/NVQ level 3 for RSciTech, HNC/HND/BSc for RSci), work-based learning and CPD activities.
Applications for the registers will be through licensed organisations, which include the RSC and the ASE.
David Barr, RSC Accreditation and Qualifications Manager, said: 'We are pleased that we can now help science technicians and those in the early stages of their careers receive greater professional recognition. RSC members interested in applying for the new designations should contact our membership department.'
The ASE is already accepting applications for the new awards. In particular they are inviting early career teachers to 'fast-track' their application for RSci, giving them a 'spring board' to qualifying for CSciTeach status. Teachers with an honours degree in science and QTS status are eligible to apply using the fast-track process.