Tara tells Katrina Krämer how her curiosity about chemistry helps her keep rivers clean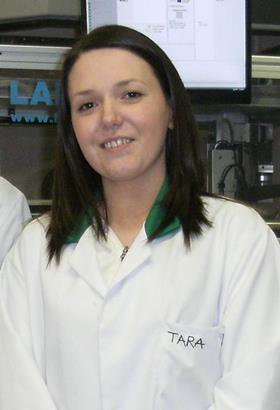 Tara was always curious; like her father, a mechanic, she wanted to find out how and why things worked the way they did. 'When I was at primary school, I loved reading about the planets in our solar system and their different atmospheres and orbits,' Tara says. Noticing the kind of books Tara was borrowing from the local library, her mother bought her a scientific encyclopaedia. 'Since then, I've been hooked. I used to sit and read it for hours!' Fascinated by elements and experiments, chemistry became one of her favourite subjects.
Inspired by her A-level science teacher, Tara decided to study biological sciences at Queen's University Belfast. However, she wanted her degree to be as wide ranging as possible and also attended some chemistry modules. Tara enjoyed seeing the theory she studied in her lectures come to life in the laboratory. 'I especially liked any experiments where there were changes in physical states, colour or appearance, and learning about how and why they happen,' Tara says.
Wastewater works
During a gap year, Tara worked in an analytical chemistry laboratory, where she got some hands-on lab experience examining drinking water quality. Then, after finishing her degree, Tara quickly found a job as a laboratory technician with responsibility for water analysis. Not realising her new job was based at a wastewater plant, Tara was surprised when she arrived. 'I started to notice this awful smell and wondered what it could be. As I got closer, I realised it was a sewage plant! I was about to turn around and go home, but I needed the money so I went in. Everyone was really nice and I ended up working there for a year and a half.'
However, after some time, Tara realised that she wanted to take an extended break, something she had not done while studying or working. 'Most of my friends had gone on world trips or spent months travelling around Europe,' she says. 'I got itchy feet.' Tara took the plunge and left her job to travel around Canada.
There and back again
Returning back home after six months, refreshed from her time away, Tara was ready to get back to work, doing the thing she loved: chemistry and science. She found the task more difficult than expected – in 2007, the financial crisis was setting in and job offers were becoming scarce. 'I worked in a bar for three years, just to make ends meet, but felt like I needed a job to challenge me,' Tara explains. Undeterred by numerous unsuccessful applications, Tara finally landed the perfect job with the chemical analysis service at Northern Ireland Water.
Here, Tara analyses wastewater to make sure lakes and rivers are kept free of dangerous pollutants. 'I enjoy the fact that the work I do helps to create and maintain clean bathing waters and river ways for the province,' she says. 'It is rewarding to know that my results help to protect the environment and public health, and are used as the basis of future generation projects.'
Naturally curious
Indulging her childhood curiosity, Tara decided to take on an additional opportunities to learn and develop, undertaking an Open University degree course in analytical sciences. She's keeping up to date with new methods and technologies, researching and developing new water analysis procedures to ensure her lab runs in the most efficient, cost-effective and environmentally friendly manner.
'For me chemistry helps to explain the world around us,' Tara says. While doing science, she cherishes the opportunity to learn something new every day. 'Learning doesn't end when you leave the classroom,' Tara explains. Science isn't static but continually evolving: new discoveries are being made every day. 'Chemistry is a constant learning curve – no two days are exactly the same, and I like the fact that there are always new discoveries to be made.'
Pathway to success
2010–present, Scientific officer at Northern Ireland Water wastewater laboratory
2005–2006, Onsite laboratory analyst at a wastewater treatment plant
2002–2003, Gap year at Ruddock & Sherratt Public Analysts in Belfast
2000–2005, BSc in biological sciences, Queen's University Belfast
2000, A-levels in chemistry, biology and physics
Tara was initially interviewed by 175 Faces of Chemistry http://rsc.li/175-faces
Originally published in The Mole