Two sisters win the UK Young Scientist of the Year award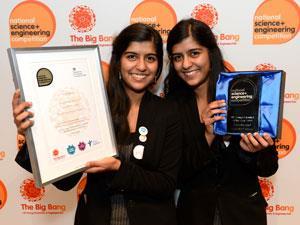 Two twin sisters from Reading have been crowned as the UK Young Scientists of the Year at the finals of the National Science and Engineering Competition.
Aneeta and Ameeta Kumar, aged 18, from The Abbey School, won the award for their project studying the possibility of developing an early diagnostic cancer tool, which could ultimately reduce deaths caused by late diagnosis. They win £2,000, a trophy and an experience prize.
The Big Bang
The results were announced at The Big Bang UK Young Scientists and Engineers Fair, the UK's largest celebration of science and engineering for young people, at The NEC, Birmingham. At the fair, the shortlisted entries were showcased to over 75,000 visitors and came face-to-face with top celebrity judges in a Dragons' Den style pitch process.
The girls said: 'We're so excited to have won, and it's definitely a bit of a shock. It's a really big role to fill, and an important one, but we're very happy to be doing it. Hopefully it will encourage other people, especially girls, to get involved and get into science. We're only 18 and you never think of 18 year olds doing cancer research!'
Tim Hunt, Nobel prize winning biochemist and one of the judges said: 'We were all charmed by Aneeta and Ameeta. Their grasp of what they were doing and the ease of their understanding of such a complex project was truly impressive. They are a great partnership and are truly deserving of being named this year's Young Scientists of the Year.'
Chemistry prize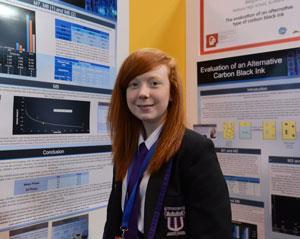 Also receiving an award was Megan Jack, a pupil from Wallace High School, Stirlingshire. She won the Royal Society of Chemistry Prize for her work in evaluating the use of an alternative type of carbon for the use in GR Advanced Materials (GRAM) carbon black inks. Megan will receive £500 and an experience prize.
Imran Khan, chief executive of the British Science Association, which runs the National Science and Engineering Competition, commented: 'We're thrilled that Megan has been awarded this prestigious honour at The Big Bang Fair this year. This project really caught our imagination and we hope that it inspires other young people to enter the competition.
'Now in its sixth year, our contest has become renowned for recognising, rewarding and inspiring thousands of talented youngsters in all areas of science, technology, engineering and mathematics. We need to nurture a new generation of bright sparks, and the competition offers a great incentive to get youngsters experimenting and having fun with science and engineering.'
The National Science and Engineering Competition is an annual contest open to pupils aged between 11–18, and gives participants the chance to compete for top prizes and international experiences worth over £50,000. Visit the website for more information about next year's competition.