Take part in our social media survey for chemistry teachers and you could win a £25 Amazon voucher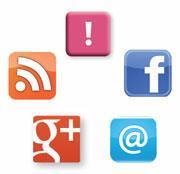 Are you a Facebook, Twitter or LinkedIn user? Have you discovered Google+ or Pinterest? Do you use them for work or social reasons?
Social media is a rapidly changing field and we want to find out how, why and when chemistry teachers are using it.
Go online today to fill in our short (we promise!) survey. You can enter our draw to win one of three £25 Amazon vouchers.
Deadline for entries is Friday 1 June.