November 2012
There has been a lot to celebrate in the world of chemistry education over the last few weeks. And plenty more to celebrate soon
There has been a lot to celebrate in the world of chemistry education over the last few weeks. Our students returned from the 2012 Olympiad in Washington DC with four medals. You can find out more about their fantastic achievement and how to enter students for next year's competition on p22.
Chemistry takes centre stage at this year's Royal Institution's annual Christmas Lectures. These will be presented from that iconic lecture theatre by chemistry's very own Peter Wothers, who, by coincidence, is also chair of the International Olympiad steering committee. I'm sure this will prove to be a very exciting lecture series and I shall definitely be watching.
The Bill Bryson Prizes have also been awarded to the 2012 competition winners. This was a prestigious event hosted at the Speaker's House at the Houses of Parliament and the standard of entries this year was particularly high. I really enjoyed chatting to the winners, their family and teachers - their interest and enthusiasm was quite overwhelming. Every year brings something different and this year the overall winner was a cartoon strip - I'm delighted to publish the second of Flask in a Mask: Secret Chemistry Agency's missions in this issue of The Mole. I'm sure your students will love it.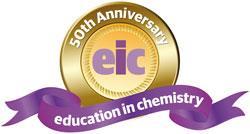 For Education in Chemistry, celebrations continue throughout 2013 as we mark our 50th anniversary year. We will launch a new magazine which has a fresh, bright, contemporary look and feel. During the year you will see new article types to support your teaching practice and we will bring you a brand new interactive website to help our community grow and develop, as well as many more surprises.
To make sure you join the start of our celebrations, sign up to the email alert registration page - make sure you select Education in Chemistry.
Karen J Ogilvie
Related Links
The International Chemistry Olympiad
This summer Washington DC eagerly awaited the world's finest sixth form chemists to compete in the 44th International Chemistry Olympiad
Bill Bryson Prize 2012 and 2013
05 November 2012. Award-winning young science communicators gathered last month to meet author Bill Bryson and collect their awards for the 2012 RSC Bill Bryson Prize
In this month's student magazine: sniffing out the chemistry behind the puzzle of smells, how to enter for the Bill Bryson Prize in 2013 and much more