September 2012
Inspirational conferences and plans for a new look EiC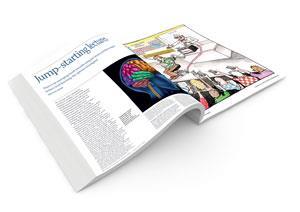 Good grief - it's September already! The summer, the Olympics and Paralympics have all been and gone and the refurbishment of TGH is almost complete! During holiday time it should be a bit quieter, so there is the opportunity to catch up with these 'little jobs'. Not this year. The summer jobs have turned into major projects. Plans are well under way to bring you a 'new look' Education in Chemistry and website. This means I'll have more scope to give you some exciting new content - watch this space!
While not busy with new projects, I was flying the flag for EiC, The Mole and CERP at conferences during the summer. The joint European Conference on Research in Chemistry Education (ECRICE)/International Conference on Chemistry Education (ICCE) 2012 event was held in Rome and I found it to be truly inspirational. I was overwhelmed at the commitment of so many chemistry educators from across the world to provide the best possible learning experience for their students. This came to the fore again last week, at the annual Variety in Education Conference which was hosted this year by the University of Edinburgh. I must thank Michael Seery for writing up his blog with Olympian speed so I can share the highlights with you in this issue.
The Olympics has, of course, been a highlight of the summer, and aspects of this great international event have touched some of us deeply. Vanessa Kind pleads for this Olympic level of commitment to be given to coaching our chemistry teachers, so we have the best to teach our students.
One of the nicest things about going to conferences is meeting so many people who this share common interest in supporting our students and helping to encourage them towards a career in chemistry. I have also brought back lots of ideas for future articles which I hope will inspire you to develop your own skills by bringing some of the most recent practices into your classes and labs.
Here's to an exciting year ahead!
Karen J Ogilvie