Using formative assessment to enhance learning, achievement, and academic self-regulation
Heidi L Andrade and Margaret Heritage
Routledge
2017 | 140pp | £22.99 (PB)
ISBN 9781138653030
Reviewed by Andy Chandler-Grevatt
amzn.to/2iSLfCl
Heidi L Andrade and Margaret Heritage
Routledge
2017 | 140pp | £22.99 (PB)
ISBN 9781138653030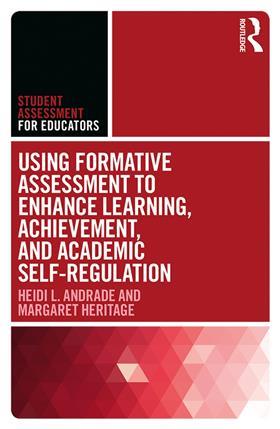 It is rare that a short book is so entrenched in strong education theory, meticulously referenced to academic research and directly applicable to the classroom. This book brings teachers right up to date on our current understanding of formative assessment, with a focus on learner self-regulation.
The authors exemplify how, if assessment is seen as regulation of learning, it can lead to improved learning, achievement and academic self-regulation. Self-regulation is a valuable life-skill as it can be applied to many of aspects of work. If learners are self-regulating, they are independent learners.
The book is concise and has five short, sharp chapters that include links to current research, practical applications, case studies and examples of how the strategies enhance self-regulation. The examples and case studies are all based in the US, but they are applicable to any classroom.
Despite all the research and training available since the rise of Assessment for Learning in schools in the early 2000s, I find teachers still misunderstand and misuse learning objectives. Chapter 2, 'Clear Learning Goals and Criteria', spells out the significant value of setting appropriate learning goals and criteria and the huge impact they can have. Chapter 5, 'Taking Action', gets to the crux of practical approaches to feedback and intervention.
Although there are lots of practical strategies, the book does not guide teachers through how to develop their practice in countries, schools and classrooms that do not have a formative assessment-focused culture. In addition, due to its concise nature, big ideas are only touched upon and a reader will need to follow the references to gain a deeper understanding.
However, I think every classroom teacher should read this, reflect on their current practice and apply it to their teaching. I'm adding it to the reading lists for my trainee teachers and those studying for a Master's in education.