A well-structured guide for undergraduates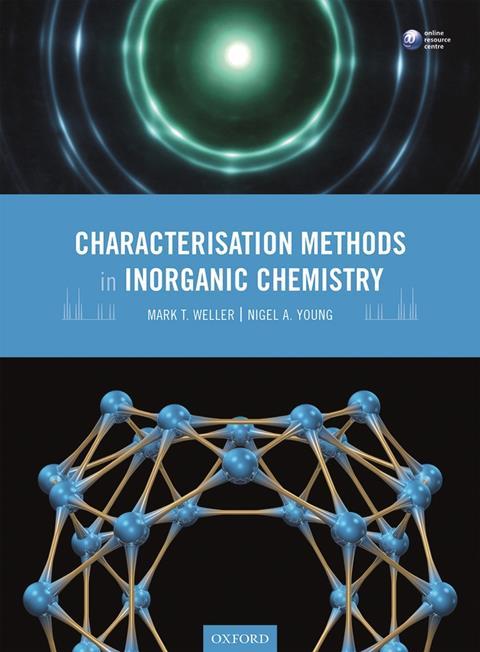 Mark T Weller and Nigel A Young
Oxford University Press
2017 | 336 | £31.99 (PB)
ISBN 9780199654413
Mark T Weller and Nigel A Young
Oxford University Press
2017 | 336 | £31.99 (PB)
ISBN 9780199654413
Reviewed by Paul Duckmanton
amzn.to/2goPy7y
I've often found inorganic chemistry is treated as the ugly sister in characterisation textbooks; most focus on techniques associated with organic characterisation, or delve heavily into the physical underpinnings. I was therefore excited to see a book dedicated to characterising compounds that have more than two atoms, and possibly no carbon!
The book is targeted at the undergraduate market and covers a range of techniques familiar to inorganic chemists. It starts with a basic overview of how spectroscopy works. It explains how characterisation does not rely solely on a single technique, and points out not only what information a specific technique can provide, but also what it can't.
Given the large number of techniques covered, the theoretical underpinnings are succinctly but comprehensively explained at the start of each section. The most commonly encountered entry-level use is presented through several inorganic-specific examples, before more complex ones are introduced. I found the structure mirrors the way these techniques are taught in a number of institutions I've worked at, and it should appeal to the target audience.
For some techniques, I feel the more advanced aspects are too briefly covered, but I acknowledge this would be difficult to fix without doubling the size of the book. This is particularly apparent when it delves into more advanced NMR experiments, with a limited number of examples in what is a huge area.
As with any undergraduate textbook, there are a number of self-test and worked problems throughout the book. The minor annoyance of a worked example split across different pages does not detract from how useful these are to consolidate the material. Using these to explain the theory with contextualised problems is likely to prove valuable for and popular with students and teaching staff.
Purchase Characterisation methods in inorganic chemistry from Amazon.co.uk