Computational power is ever more important in science and educators owe their charges an introduction to it. Molecular Workbench offers ample opportunity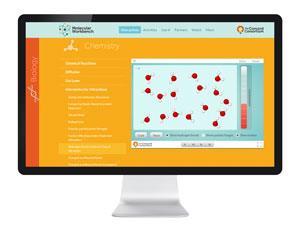 http://mw.concord.org/nextgen/
When I first punched in the web address for Molecular Workbench I thought I had come across an attractively designed suite of interactive chemistry tutorials. I was right up to a point: the website does deliver this, but it's also a tool allowing educators to design their own in silico chemical simulations.
From the homepage, I dived into a tutorial on how cells make proteins, which covered DNA replication, transcription and protein folding. Included in this were the sorts of questions, cartoons and text that have become common in online resources. But the simulations were, to my eyes at least, singularly good. The protein tutorial included one where students could experiment with creating different types of polypeptide — for example with mostly hydrophobic residues or with disulfide-linked cysteines sprinkled throughout — then press 'play' and watch how their protein would fold.
In a 2011 Science article Molecular Workbench's creators said their simulations allow students to 'observe visualisations, raise 'what-if' questions, formulate hypotheses, design and conduct investigations to test their ideas and analyse and interpret results'.1 The protein folding simulation, certainly, is powerful enough to allow this. It's worth noting, though, that this is a two-dimensional simulation, and the audience for the tutorials is school-aged.
If you're looking for something to assist you with better-qualified pupils then perhaps consider downloading the Molecular Workbench program, which will allow you to design your own simulations. This is may take some time to master, but to get an idea of the possibilities, head over to a collection of custom-made Molecular Workbench simulations hosted at Harvard University's natural science department.
Another option is to ask able students to build a computer simulation-cum-experiment in which they can change variables and develop an understanding of principles involved in chemical phenomena.
Teachers shouldn't be overawed by the possibilities Molecular Workbench offers. Computational power is ever more important in science and educators owe their charges an introduction to it. Molecular Workbench offers ample opportunity.