50 more strategies for linking assessment, instruction and learning
Science formative assessment (volume 2)
Page Keeley
Corwin
2015 | 256pp | £22.99 (PB)
ISBN 9781452270258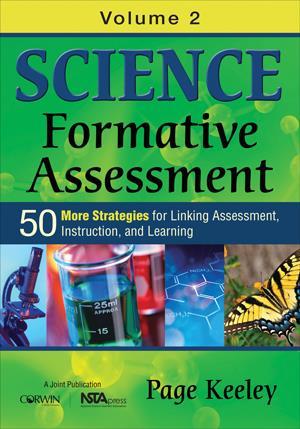 Academic research has long recognised the value of formative assessment in teaching and learning, though it remains a struggle for many classroom teachers to implement. This inspiring book includes 50 formative assessment classroom techniques (FACTs) for science teachers to use in their classrooms. Although matched to the sophisticated US Next Generation Science Standards, these activities will only enhance the comparatively reductive science curricula of the UK.
What I like about these activities is that they are not just worksheets that can be photocopied and given out; instead they are activities a teacher can draw upon in response to students' needs. By way of introduction, Page describes a classroom snapshot of formative assessment in practice, which helps set the scene of how these activities are intended to be used. In addition, many of the tasks link to education research, which gives credence to these activities as much more than classroom gimmicks.
A browse through the FACTs reveals some hidden gems that can support self and peer assessment. Many of the activities teachers will have seen or used before – for example, card sorts, hot-seat style questioning or thumbs up-down-sideways. However with Page explaining their role as formative opportunities, I can see they will help teachers to focus on probing, assessing and feeding back in their lessons. The guidance with each activity describes how the FACT should be used to promote learning through assessment, along with modifications and caveats that help the teacher tailor the FACT to the needs of their class.
As a teacher educator, I often encourage my trainees to use more student-centred activities to facilitate formative assessment opportunities. For trainees and existing teachers who wish to improve their formative assessment strategies, selecting a FACT from this book and using Page's expert advice could certainly enhance their science lessons into richer, more meaningful learning experiences.
Purchase Science Formative Assessment (Volume 2) from Amazon.co.uk.
Science Formative Assessment (Volume 1), published in 2008, is also available (£23.99, PB).
The giveaway competition has now closed: the winner was @dave_thesmith. Make sure you follow us on Twitter to be in with a chance in our next competition.