Careers advice isn't just down to careers advisers. Teachers need to cover it too; and in England, every school has a duty to provide careers guidance from year 8
Excellent careers guidance makes sure there is equality of opportunity. It unlocks potential and transforms outcomes for people of all ages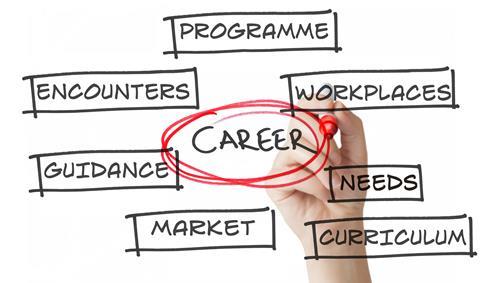 For many years, the careers provision for students in England was regularly lambasted as being of poor quality. The Education Act 2011 meant that schools had to provide independent careers guidance to pupils in years 9–11. However, at the same time Connexions, the government organisation which had provided careers advice, was effectively disbanded leaving a patchy provision of independent advisers that schools could draw upon.
In 2012 Ofsted published Going in the right direction as a result of themed inspections of careers and guidance in 60 schools. Although some good practice was seen, the report found that 'the information students received about careers was too narrow. Too many students were unaware of the wide range of occupations and careers that they might consider' and that 'too few schools are providing careers guidance that meets the needs of all of their students'.
The House of Commons Education Committee also looked at the effect of the Education Act 2011 and concluded 'The Government's decision to transfer responsibility for careers guidance to schools is regrettable. We have concerns about the consistency, quality, independence and impartiality of careers guidance … being offered to young people.'
As a result of these concerns, in 2013 the Gatsby Charitable Foundation asked Sir John Holman to look at best practices in careers guidance in the UK and internationally, and consider how these might be applied to improve careers guidance in English schools (though they would be applicable in any nation). Sir John took a broad-brush approach to career guidance, considering a wide range of activities intended to help young people make decisions about further education, training and jobs. He then synthesised the different approaches to careers guidance to identify common themes. These themes are the Gatsby benchmarks.
1. A stable careers programme
Every school and college should have an embedded programme of career education and guidance that is known and understood by pupils, parents, teachers, governors and employers.
2. Learning from career and labour market information
Every pupil, and their parents, should have access to good quality information about future study options and labour market opportunities. They will need the support of an informed adviser to make best use of available information.
3. Addressing the needs of each pupil
Pupils have different career guidance needs at different stages. Opportunities for advice and support need to be tailored to the needs of each pupil. A school's careers programme should embed equality and diversity considerations throughout.
4. Linking curriculum learning to careers
All teachers should link curriculum learning with careers. STEM subject teachers should highlight the relevance of STEM subjects for a wide range of future career paths.
5. Encounters with employers and employees
Every pupil should have multiple opportunities to learn from employers about work, employment and the skills that are valued in the workplace. This can be through a range of enrichment activities including visiting speakers, mentoring and enterprise schemes.
6. Experiences of workplaces
Every pupil should have first-hand experiences of the workplace through work visits, work shadowing and/or work experience to help their exploration of career opportunities, and expand their networks.
7. Encounters with further and higher education
All pupils should understand the full range of learning opportunities that are available to them. This includes both academic and vocational routes and learning in schools, colleges, universities and in the workplace.
8. Personal guidance
Every pupil should have opportunities for guidance interviews with a career adviser, who could be internal (a member of school staff) or external, provided they are trained to an appropriate level. These should be available whenever significant study or career choices are being made. They should be expected for all pupils but should be timed to meet their individual needs.
Following the publication of the Gatsby benchmarks, and a successful pilot of the benchmarks in the north-east, the government published a new careers strategy in December 2017. The strategy embedded the benchmarks as a key part of how schools and colleges could ensure that careers guidance was of high quality.
Schools' statutory duties were also updated with the publication of additional statutory guidance in 2018. Some key points from this document are:
Schools should continue to secure independent careers guidance for all pupils in years 8–13.
By September 2018 all schools and colleges should have a named careers leader, and publish details of their careers programme.
By the end of 2020 every school should offer every young person seven encounters with employers – at least one per year from year 7 to year 13. Some of these encounters should be with STEM employers.
By the end of 2020 all schools should meet all of the Gatsby benchmarks.
Using the Gatsby benchmarks schools and colleges are expected to audit and plan their careers programmes to ensure that they are providing the best possible careers information and guidance to their pupils.
Carol Davenport is a senior lecturer at Northumbria University, Newcastle and director of nustem