Katherine Haxton discusses the value of recording lectures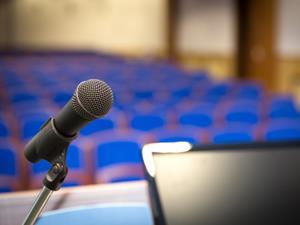 Campus-wide lecture capture technology – a way to record lectures – is a major investment for universities, but is hugely popular among students.
I started recording my lectures seven years ago with a digital voice recorder with lapel microphone and distributed the MP3 file. Students found this format challenging as it was not clear how the audio linked to my lecture slides. I then started to use Camtasia on a tablet PC to record the slides and annotations I made. I continued to capture the audio using the digital voice recorder.
At Keele University we are now piloting a lecture capture system that automatically creates recordings of projected content and audio and publishes them directly on our VLE.
While I and many others have been recording our lectures for years, many academics are reluctant to join in.
Lecturers' concerns
The most common concern about recording lectures is that it will reduce attendance. However, most studies do not support this theory. Of my own students, only 5 out of 99 indicated that recorded lectures influenced their decision to attend. Many pointed out that there is added value in attending a lecture because they are able to ask questions.
Being recorded is often a source of unease with lecturers. Some feel that their class must be perfect, and some worry that they should use a script or will have to spend a long time editing recordings. Students generally do not expect a professionally produced recording, and are happy provided they can hear clearly, the recording is free from background noise and the video is sufficient.
Another source of potential unease is that a recording might be shared on social media. But with most recordings being released via a virtual learning environment, access can be restricted to students doing a particular course in a particular year. Also, downloading for off-line viewing is often restricted, reducing the chance that our less glorious teaching moments will form a blooper reel on YouTube. Often, the unease at being recorded evaporates on sight of positive student feedback.
Student performance
Many attempts have been made to evaluate the impact of lecture capture on student performance. There are valid concerns that recorded lectures may promote a 'video box set' mentality towards learning, increasing passive memorisation of content and leading to students confusing familiarity with developing a conceptual understanding. It would be possible to make similar arguments about any content delivery method ranging from textbooks to lecture notes, so it is not reasonable to blame technology for poor learning behaviour. The solution lies in equipping students with study skills and incorporating the use of all resources effectively.
Lecture recordings are an excellent resource for international students grappling with concepts in another language and students with disabilities who may struggle to keep pace. Our students reported that it is nice to have more time to listen to what is being said without frantically trying to write it all down.
Many lecture capture systems have 'hot spot' metrics that staff can use to discover which portions of a lecture have been reviewed repeatedly. This can indicate concepts that students are struggling with and can enable staff to modify their approach to that concept in future years or provide additional support as necessary.
Lecture capture could be used for other applications such as student presentations, demonstrating procedures, providing recordings to support lecture flipping and more. The technology is well established, but our use and how we encourage our students to use it is not. This is an opportunity for innovation when developing our teaching.
You can read my study of student experiences of lecture capturing in The Journal of Academic Development and Education.1
Katherine Haxton is a senior lecturer in chemistry at Keele University, UK
Image © Shutterstock
References
J Acad. Dev. Educ., 2016, 5, 41