How do you teach two classes at once? Bill Beveridge explains the incredible situation teachers find themselves in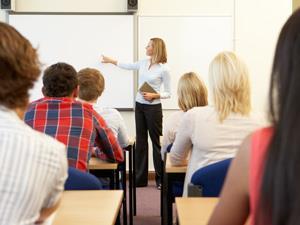 In a large city school in Scotland, a chemistry teacher nervously awaits the arrival of her next class. Helen (not her real name) is very aware the stakes are high for the Higher Chemistry students in her class – the grades they secure will prove critical in determining whether they can secure entry to university.
Having taught for many years, this prospect wouldn't normally cause Helen much anxiety, but this year is different. The class filing into the lab is a multicourse group, consisting not just of students studying the Higher course (typically ages 16–18), but also students studying for the National 5 chemistry course (typically ages 15–16).
With the examinable content of these courses being largely mutually exclusive, Helen has spent a lot of time planning lessons for this composite class. She has attempted to devise activities and strategies to ensure that both National 5 and Higher students can be offered equal levels of teacher support during each lesson.
Despite her best efforts, she's had no alternative but to offer extra tutorial sessions for these students during lunchtime and after school.
A survey undertaken by the Royal Society of Chemistry (RSC) Education Division Regional Committee in Scotland shows that Helen's predicament may be more common in Scotland's schools than we previously thought.
Curriculum for Excellence
Multicourse classes and the challenges they present for teachers and students are an unintended consequence of the ways in which the Curriculum for Excellence – the most ambitious and wide-reaching Scottish educational reform in a generation – has been implemented in some schools.
There can be no doubt that the Curriculum for Excellence has acted as a catalyst for creativity in Scotland's schools seeking to ensure that all Scotland's young people are nurtured and supported to become successful learners, confident individuals, and responsible citizens. The recent reforms have placed active learning, skill development and interdisciplinary learning high on the agenda and have recognised the value of learning that occurs outside traditional classrooms.
Changing structure
The difficulties associated with multicourse classes have resulted, in part, from a major change made to the way the senior years of secondary education are structured within schools.
Prior to Curriculum for Excellence, the six years of secondary education in Scotland followed what was known as the 2+2+2 model. During the first two years of secondary education students would study the full range of subjects offered at secondary schools. In the third and fourth years of secondary education, students would study seven or eight Standard Grade courses, equivalent to GCSEs. In their final two years, students would study up to five subjects at Higher level in the first year, narrowing to around three subjects at Advanced Higher level in their final year.
Curriculum for Excellence advocates a very different model for schools. In this scheme, known as the 3+3 model, students study a wide range of subjects in the first three years of secondary school, termed as the 'Broad General Education'. Students from the final three years of secondary education are then combined to form a single cohort in the senior phase. These students are typically able to choose up to six one-year long courses to study during each of their three years within the senior phase. In chemistry, courses are offered covering a range of levels of demand from National 4/5 (GCSE equivalents) up to Advanced Higher (A-level equivalent).
Unintended consequences
With students in the first year of senior phase now studying fewer subjects than in the past, the number of students studying chemistry has dropped, with the number of GCSE equivalent presentations dropping by over 11% in the two years since the Curriculum for Excellence was introduced.
Online discussion forums used by science teachers are seeing an increasing number posts from teachers seeking support in teaching classes in which all senior phase students studying a particular subject are placed in a single class.
To ascertain how widespread multicourse chemistry classes are, and to judge their impact on student learning, the RSC Education Division Regional committee for Scotland undertook a survey. 28% of chemistry teachers employed in publically-funded schools participated, providing the first quantitative indications of how common multicourse classes might be.
Putting numbers to the stories
Just under half of the classes containing National 5 students were composite National 4 and National 5 classes. Teachers reported some degree of success in developing strategies to support students in this type of class with 31% of teachers reporting that students in these classes could be supported quite well or very well.
Around a fifth of Higher classes contain students studying other courses.
The most common combination, accounting for around 13% of classes with Higher students, are composite classes of National 5 and Higher students. When asked, 'How well can students be supported in a combined National 5 & Higher class?' 99.5% of teachers in the survey responded either 'not very well' or 'not at all'.
Recent discussions between RSC representatives, the Scottish Government, Education Scotland and the Scottish Qualifications Authority indicated the key education agencies are sensitive to the difficulties being experienced in schools and are keen to take appropriate action.
The issue of multicourse classes is certain to be a talking point at 20th National Meeting for Teachers of Chemistry at which the Education Division Regional Committee for Scotland will provide further details on the findings of the survey. The meeting is taking place at the University of St Andrews on 14 June, details can be found here.
Bill Beveridge is an education consultant with over twenty years of teaching experience and is a member of the RSC Education Division Regional Committee for Scotland
Image © Shutterstock