Discover STEM-themed competitions for you and your students to enter in this academic year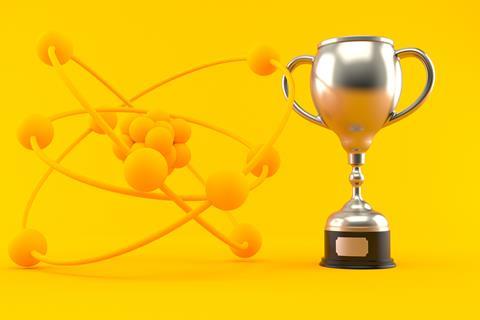 There is a great range of science competitions out there that your students can enter. Competitions come in all shapes and sizes, including essay writing, photography and video competitions, and can be local or national events.
Besides the array of downloadable materials you can make use of in your lessons, as homework or part of a science club, the benefits of taking part include learning how to work in a team, grasping how lessons apply to real-world problems, and there could even be some extra cash to bag!
You can jump straight to the lists of science-writing competitions, or more arty competitions (such as photography and drawing prizes), or simply read on to discover what's open to you and your students this academic year.
These competitions have been ordered by closing date. Listing a competition does not serve as an endorsement by the RSC. Last updated: October 2023.
Imperial College Science & Innovation Competition
Age: 4–adult
Registration opens: September 2023
Closes: 15 December 2023
The Science & Innovation Competition, run by the Faculty of Natural Sciences at Imperial College, aims to motivate primary and secondary-aged children to engage with science, to encourage them to work as part of a team and engage in fun activities. Adults are also welcome to enter.
Teams of two to four people are asked to develop a new and innovative scientific solution to help achieve one of the United Nation's Global Goals for Sustainable Development. To enter, teams need to create a five-minute film that describes the science behind their idea. Finalists are invited to take part in an event during spring 2024 at Imperial College, London (date to be confirmed). Learn more on the website.
UK Chemistry Olympiad
Age: 16–18 (recommended)
Registration opens: September 2023
Closes: January 2024
Run by the RSC, the UK Chemistry Olympiad is designed to challenge and inspire older secondary-school students, by encouraging them to push themselves, boost their critical problem-solving skills and test their knowledge in real-world situations. Explore past papers to get an idea of the types of questions involved.
There are three rounds that culminate with the prestigious International Chemistry Olympiad, which will take place this year in Riyadh, Saudi Arabia. Round 1, a written test taken in your school, is scheduled to take place on 25 January 2024. Students then receive bronze, silver or gold certificates depending on their scores. Up to 30 students will then be selected to move on to the second round – a training weekend at the University of Nottingham. Four students will then be chosen to represent the UK in the international competition from 21–30 July 2024.
To get started, register your school or college. Do this and find out more information about preparing on the Olympiad homepage.
Top of the Bench
Age: 14–16
Registration opens: soon
Closes: January 2024
Top of the Bench (TOTB) is an annual practical chemistry competition that has been running for over 20 years. It's a long-standing favourite for students and teachers, and provides an opportunity for students to put their teamwork and practical skills to the test.
Regional heats are led by RSC local sections between October and January. The winning team from each heat progresses to the national final, held in the spring at a UK university (where there is also a session for teachers to explore resources and classroom ideas with one of the RSC's education coordinators).
First prize is awarded to the best overall school performance, with five teams receiving runners up prizes. The Jacqui Clee Award is also awarded each year to the student who makes an outstanding individual contribution.
Teams must consist of four students: two from year 9/S2; one from year 10/S3; one from year 11/S4.
Find more information including past papers and how to apply on the TOTB homepage.
Slingshot Challenge
Age: 13–18
Registration opens: now
Closes: 1 February 2024
The Slingshot Challenge is run by National Geographic and is an exciting opportunity for students to get involved with the global programme. Students can enter in teams of up to six. Individual entries are welcomed although all entries are expected to involve collaboration with peers, stakeholders, and/or marginalized communities.
Students work to prepare a short, 1-minute video, from topics with an environmental focus. Training sessions for teachers and resource/tool kits are available from the website and the providers can offer feedback and technical support ahead of official submissions.
Videos are expected to put forward compelling, evidence-based information and be engaging for the audience. A small number of motivating prizes are awarded each year to the student of up to $10,000.
For full details see the Slingshot Challenge website.
Schools' Analyst
Age: 16–17
Registration opens: soon
Closes: 23 February 2024
The Schools' Analyst Competition is returning to schools in 2024. Run collaboratively by the Analytical Chemistry Trust Fund and the Royal Society of Chemistry, this event allows students to expand their chemistry knowledge and skills through practical analytical experiments. Students must be in Year 12 (England, Wales, NI)/S5 (Scotland)/5th Year (Ireland).
Schools and colleges register their interest to host a heat and, if randomly selected, can now enter up to 25 teams of three students to compete to be crowned the overall school winner. Each winning school team will then compete within their region to find regional winners. Regional winners receive a cash prize for themselves and their school.
Register your school to take part by 23 February 2024. To take part, students only need access to standard school laboratory equipment and some consumables (a bursary is available for those who need it).
Equipment boxes are sent to 400 entrants, selected at random, and delivered in advance of the event. Results must be submitted by 17 May in Ireland (to ensure schools have the chance to award winners before the summer holidays) and 14 June elsewhere.
Science meets art
If you have some students who would be hooked by the artistic side of science, check out these competitions:
MathWorks Math Modeling challenge
Age: 16–19 (England and Wales only)
Registration opens: November 2023
Closes: 24 February 2024
The M3 Challenge is an internet-based applied maths competition that inspires participants to pursue STEM education and careers. Working in teams of three to five students, participants have 14 consecutive hours to solve an open-ended maths-modelling problem based around a real issue during the challenge weekend, 1–4 March 2024.
The problem typically has a socially conscious theme – equity, the environment, conservation or recycling, energy use, health, and other topics that young people care about. The challenge gives students the opportunity to use maths modelling processes to represent, analyse, make predictions and otherwise provide insight into real-world phenomena. For example, 2023's problem centred around modelling the impacts of e-bikes to better understand if they are likely to become part of a global, more sustainable energy plan.
Numerous free resources, including modelling and coding handbooks, videos and sample problems are available to help teams prepare for the event.
The competition's final presentation and awards ceremony event is held in New York City in late April Рan all-expense paid experience for the finalist teams. These top teams will be awarded scholarships toward the pursuit of higher education, with members of the overall winning team receiving $20,000 (ȣ16,000).
For rules, resources and to register, visit the competition website.
The Cambridge Upper Secondary Science Competition
Age: 16–18
Registration opens: now
Closes: 30 September 2023 and 31 March 2024
The Cambridge Upper Secondary Science Competition, run by Cambridge Assessment, is an exciting extra-curricular activity for teams of aspiring scientists who are studying with the Cambridge IGCSE or O Level science programmes.
Teams of three to six students choose a topic and work on a scientific investigation over 20–25 hours. The competition encourages investigations with some practical or community relevance and an eye on sustainability.
Projects may involve laboratory work and should include creative and collaborative working, critical thinking and reflection. Students should be given the opportunity to present their results to a wider audience, perhaps at a science fair or other school event.
Teachers provide initial project evaluations and the best are put forward for consideration by a panel of experts. The winning team receives a certificate and is featured on the competition website. The competition runs twice a year, so keep abreast of all the dates on the website.
TeenTech Awards
Age: 11–16
Registration opens: now
Closes: March 2024 for first-round submissions
The TeenTech Awards encourage students to see how they might apply science and technology to real-world problems across several different categories, from food and retail through the future of transport to wearable technology. Students identify an opportunity or a problem, suggest a solution and research the market.
Students can work in teams of up to three people and there are lots of award categories. All submitted projects receive feedback and a bronze, silver or gold award. The event is well supported with training sessions for teachers and students, so everyone knows what to expect and what the judges will be looking for!
The best projects go forward to the TeenTech Awards Final for judging and the winning school in each category will receive a cash prize. The final is expected to take place in London in June 2024.
Science writing competitions
Numerous essays competitions run each year covering all aspects and areas of STEM. Below is just a selection of some of the competitions out there. Entries into science writing competitions make great additions to UCAS applications, and they get students thinking about science, too.
The Oxford Scientist Schools' Science Writing Competition (700-word magazine article; ages 15–18; deadline likely to be July 2024; prize includes £50 and being published in the magazine)
Newnham College, Cambridge (2000-word academic essay; age 16–18 women at state school only; deadline likely to be March 2024; winners receive up to £400 to split with their school). Teachers can sign up to mailing lists now to hear more about this essay competition and other events from the college.
British Science Week poster competition
Age: 3–14
Registration opened: January 2024
Closes: March 2024
British Science Week will run from 8–17 March. Alongside numerous activities and events across the country, there will be a themed poster competition – and this year's theme will is 'time'.
Entrants can explore a wide range of ideas covered by the broad theme. Judges are on the look out for an innovative angle or creative interpretation of the theme; clear, accurate and informative content; and effective, engaging communication. This competition is a great way for students to practise their communication skills. There are numerous prizes up for grabs that cover all age categories.
Entrants can be teams or individuals from any organisation, although schools are limited to five entries. Find out more on the website, including activity packs and other resources to make the most of British Science Week.
Big Bang Young Scientists and Engineers Competition
Age: 11–18
Registration opens: October 2023
Closes: 27 March 2024
The Big Bang Competition is open to young people aged 11 to 18 in state-funded education or who are home educated or who enter as part of a community group. Private school participants can get involved as part of a collaboration with state-school peers.
Participants complete project-based work, focusing on investigation, discovery and use of scientific methods. Students choose their own STEM topic and work to submit their project as a written report or short video. The possibilities are endless!
Students can include their involvement in the competition in their extracurricular activities on UCAS forms and personal statements and have a chance of winning a range of awards and cash prizes.
Find out how to get started and get inspired with past projects on the Big Bang website.
BIEA Youth STEAM Competition
Age: 6–18
Registration opens: October 2023
Closes: April 2024 for first-round submissions
The BIEA Youth STEAM Competition asks students to use their creativity to come up with ideas for a more sustainable future based on a specific theme. The theme for 2024 has yet to be announced, but the theme for 2023 was "developing solutions for sustainable cities". Students research, design and present their solution, including a written report.
Students can enter as individuals or in teams of up to five members and schools can enter more than one team. There are lots of competition categories to cover all age groups. Submissions are expected to be accepted from January 2024 and the international final to be in July 2024. Learn more on the competition website.
Local to Newcastle?
Newcastle Secondary School SciFair is a university-run secondary school science fair for students from state schools across Newcastle. Sci-Fair is a whole day event that will take place during British Science Week. Students can get the opportunity to present their models, posters or PowerPoint presentations about a scientific topic of their choosing. SciFair is open to ages 11–16. There are multiple prizes to be won on the day to recognise student's efforts. Spaces are limited capacity, so students should wait for their projects to be approved before starting work.
Unsung Heroes of Science video competition
Age: 16–18
Closes: April 2024 TBC
The International Unsung Heroes of Science video competition from Hertford College, University of Oxford is open to all 16–18 students. Entrants are tasked with making a two-minute video sharing the story of a scientist whose contributions were overlooked. Entries can be submitted by individuals or in teams of up to three.
The competition website also has lesson plans and links to videos of previous unsung heros, which are great resources for teachers to inspire their students.
Cambridge Chemistry Challenge
Age: 19 or younger
Registration opens: now
Closes: 1 June 2024
This competition — aimed at Year 12 students but available to younger students — is designed to stretch and challenge students beyond the curriculum interested in chemistry and is excellent experience for anyone considering chemistry for further study.
Students sit a 90-minute written paper under exam conditions in school, which is sent out to schools in advance. Mark schemes are available to teachers, and for schools submitting more than five scripts, these should be marked by the teacher. Scripts of students scoring over 50% are then submitted. Students who perform well receive a certificate and the best performers are invited to join a residential camp at the University of Cambridge at the end of August
The website contains lots of past papers and mark schemes, which are a valuable resource for teachers. Full details are on the website.
IET Faraday Challenge
Age: 12–13
Registration opens: January 2024 for the 2024–2025 season
Closes: July 2024
Faraday Challenges are cross-curricular STEM activity days for UK schools run by the Institution of Engineering and Technology. This annual competition draws on students' practical science and engineering skills, asking them to work in teams to solve real-world engineering problems and think creatively. Schools can host Challenge Days and invite teams from local schools to join them or apply to join a day at another school. Planning for these events starts early, so plenty of time to get organised for the day.
Teams should be made up of six students aged 12–13 years old (England and Wales Year 8, Scotland S1/S2, Northern Ireland Year 9). Schools may host a challenge day themselves or attend one hosted at another school.
Students win prizes for themselves and a trophy for their school. There is also a national league table and the top teams from across the UK go through to the national final, with the chance to win a cash prize of up to £1000 for their school. Plus, by taking part students will also meet the criteria for achieving a CREST Discovery Award.
If you are not able to enter into the main competition, there is also the opportunity for students to take part in the Virtual Faraday Challenge open to anyone aged 7–15.
Deadlines passed:
Cambridge Chemistry Race
Age: 16–18
Registration opens: Mon 5 December 2022
Closes: February 2023
In the Cambridge Chemistry Race, teams of 3–5 students solve as many theoretical problems as they can over the course of two hours – ranging from easy riddles to tasks of A-level difficulty and complex chemical problems.
Once a team has solved a question, the examiner verifies their answer and hands them the next question. Points are awarded based on the number of successful attempts. Whoever gets the most points wins!
Students are allowed to use a calculator, books, notes, and printed literature. The challenge aims to test problem-solving skills and chemical understanding rather than knowledge. Explore past questions and solutions here to get an idea of what's in store.
Schools may only enter one team each and places are first come first served.
The competition is run in collaboration with the University of Cambridge's Department of Chemistry. This year, it is joined by the University of Oxford too, so students may compete in either city. The competition will take place on Saturday 4 February 2023. Learn more on the competition website.
Global essay competition: Young voices in the chemical sciences for sustainability
Age: 35 and under
Registration opens: now
Closes: 31 March 2023
An annual essay competition on the role of the chemical sciences in sustainability, organised by the International Organization for Chemical Sciences in Development (IOCD) in collaboration with the Royal Society of Chemistry (RSC). The competition is open globally to entrants under 35 years of age. The theme for the 2023 competition is: How can the chemical sciences lead the stewardship of the Earth's element resources?
Essays will be grouped into seven regions for shortlisting and selection of winners, based on the entrant's country of normal residence. Each regional winner will receive a prize of US$500 and their entries will be published in RSC Sustainability. The shortlisted essays will be collected in an annual compendium, Young voices in the chemical sciences for sustainability, available on the IOCD's website. Individual shortlisted entries will also be featured from time to time on IOCD's website.
Essays will be judged on how well they highlight the importance of scientific approaches grounded in the chemical sciences for solving sustainability challenges. Entrants should take a broad, global perspective, and reflect on the intersection of science, society and policy aspects, rather than describing a particular scientific advance in great technical detail. Essays must not exceed 1500 words of body copy.
Quantum on the Clock
Age: 16–18
Closed: 8 July 2022
The Institute of Physics' QQQ group's Quantum on the Clock competition is open to all A-level or equivalent students in the UK and Ireland. Students are tasked to create a three-minute video about any aspect of quantum science or technology. Entries can be individual or in teams of up to four students.
Cash prizes are on offer for the winners and runners-up, with the judging focusing on creativity, clarity, engagement and accuracy. The 'best individual' and 'best team' winners will also receive year subscriptions to Physics World and an expenses-paid invitation to a prize-giving ceremony at the Photon 2022 conference dinner, which will take place from 30 August until 2 September 2022.
To find out more and apply, watch this video and go to the Quantum on the Clock website.
Clean Tech Competition
Age: 15–18
Closed: 22 April 2022 (registration); 29 April 2022 (paper submission deadline)
The Clean Tech Competition research and design challenge asks students to identify a problem with our natural world and resource use that they want to change, innovate a sustainable solution and submit a research paper to the judges. This year there is no topic restriction; entries simply need to have one goal: create a sustainable solution for an environmental issue.
This is a great opportunity to refine research, analysis and literary skills.
Each team should be made up of one to three students, who must be 15–18 years old on the submission deadline, 29 April 2022. Once the papers have been submitted, the top 10 teams from the global pool will be selected to progress to the virtual global finals. They will present their research and prototypes to the judges, and will receive handsome cash prizes, with the first team also earning a continued mentorship from an expert in the field.
Find out more and register on the competition website.
Royal College of Science Union (RCSU) Science Challenge
Age: 14–18
Closed: 11 February 2022
Imperial College London's RCSU Science Challenge is all about science communication – requiring students to demonstrate their skills in debate and reasoning and teach the public about science and its consequences.
Questions on a given theme are set by eminent scientists – who even read the shortlisted entries, so there's a real chance students' work will be seen by world-leading academics. You can find last year's (Covid-related) questions on the website.
There are both individual and team categories, and students can answer one of the questions in either written or video form of up to 1000 words or four minutes respectively. Winners receive cash prizes, plus there are non-cash prizes for the runners up.
Shortlisted candidates will be informed on 14 March 2022 and invited to the grand final on 21 March 2022 at the Royal Institution, where they will deliver a short presentation. Find more information about taking part on the challenge website.