Help your students succeed in exams with these targeted and teacher-tested homework strategies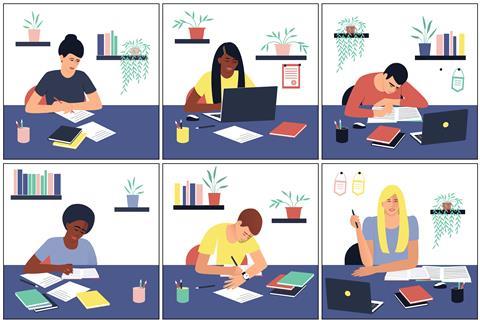 Homework plays a vital role in consolidating in-class learning. Effective science homework provides the extension to learning that students need to succeed, and gives us vital data to inform our planning. An EEF study on the impact of homework in secondary schools says that regular homework can have the same positive effect as five additional months in the classroom, as well as 'enabling pupils to undertake independent learning to practise and consolidate skills and revise for exams'. That said, getting students to complete homework is no mean feat.
There are multiple strategies we can implement to ensure homework has meaning and students appreciate the benefits of homework in their learning. This is especially useful when they're preparing for exams.
Strategies to engage your students
A few strategies have worked well for me with exam classes.
I deliver the homework in chunks (eg half termly), clearly explaining the rationale. As an example, my year 11 chemistry students performed poorly on electrolysis and titration calculation in their mock exams so, after reteaching, I wanted to ensure they rehearsed the concepts. As part of the homework they had to repeat tasks on these concepts. We then reviewed and adjusted the plan as a class to focus on their weaker areas.
I give praise often. Students love rewards in whatever form. I always discuss what rewards the class prefers. You can use stickers, certificates, etc.
It's important to be flexible. An exam year can be a stressful time for students and so flexibility is key. I ask my students about the minimum they could manage. They feel valued and part of the decision-making process, making them more likely to complete it.
Identify students/parents/carers who need support. With some of my students, I had the most success in this area by meeting with or emailing their parents/carers and providing strategies for completion, such as doing the homework every Saturday at a specific time. An email every so often to check how they are doing goes a long way.
Using online platforms
When I was a faculty lead, homework was a key focus for our department and so we did some research into online retrieval platforms which were easy to manage, self-marking and provided both students and teachers with information on learning gaps. We found several platforms to fit our criteria, such as quizzing platforms, Kay Science – great for missed learning catch up, revision and intervention for small groups – and Carousel – that helps students embed long-term knowledge. We then took a few key steps to increase buy-in.
Often students struggled with passwords, regardless of ease, so we booked laptops for all classes and the teacher modelled logging in, and checked every student could log in and complete a task. At times students would say they didn't know the answers, but often this was because they'd not watched the videos. So we reminded them to do that first. There was also a short video of how to log in on the school's homework platform for extra support.
We mapped homework to the curriculum. Students had to be familiar with the content, so homework tasks supplemented in-class learning.
We did everything we could to minimise barriers. All students who had a record of incomplete homework were encouraged to attend homework club and we allowed extensions in case they just forgot. The barriers to completing homework varied between households and sometimes a conversation to identify them and offer support was all that was needed.
The senior leadership team knew what platform we were using, so they could discuss it with all students, parents and governors. We also presented the chosen retrieval platform to parents and carers to increase buy-in.
Over time we noticed a spike in submissions as students got more familiar with the platform. Teachers praised students who showed the most progress, which meant previously disengaged students felt successful and motivated to complete more tasks.