Don't miss out on what Learn Chemistry Partnership has to offer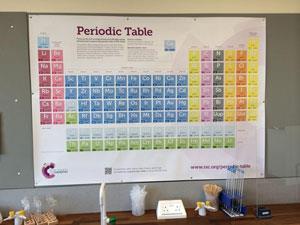 The Royal Society of Chemistry is celebrating the success of Learn Chemistry Partnership. Over 1000 teachers have signed up to the free partnership programme that offers a package of benefits to schools and colleges.
Launched in January, LCP aims to develop strong relationships and provide networking opportunities between the RSC and schools. Registered schools automatically receive copies of Education in Chemistry and The Mole, to share with colleagues and students. The monthly education e-newsletter keeps contacts up to date with the latest developments. The RSC also offers free professional membership to those who register their school.
In addition, every school that joins LCP before June will receive a giant periodic table. Teachers, delighted with the new posters, have tweeted photos of them adorning the walls of their classrooms.
Amanda Middleton, RSC schools and colleges regions manager, said: 'It is hugely satisfying to see that Learn Chemistry Partnership has had such a positive uptake. We created it to develop stronger relationships with chemistry teachers, who we know are vital to develop and cultivate an interest in the chemical sciences. As part of our community, it will be easier for teachers to access our support and resources and for teachers to let us know what support they need.'
Join Learn Chemistry Partnership today and benefit from all it has to offer.