The new Globally Harmonised System for labelling chemicals and their hazards
The new Globally Harmonised System (GHS) for labelling chemicals and their hazards under regulations known as Classification, Labelling and Packaging (CLP) is already being introduced in the UK. It means chemicals purchased now have new, diamond shaped hazard labels.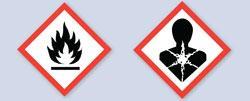 School safety advisory body CLEAPSS has released a useful leaflet explaining the new system. This highlights the key changes that have been made and clarifies some potential areas of confusion and can be downloaded after logging on to the CLEAPSS website.
Although in most cases schools do not have any legal obligations to make procedural changes, teachers and technicians will need to become familiar with the new symbols as they are introduced.
Many of the symbols are similar or unchanged but since the new system must cover hazards for all applications of chemicals (including industrial scale use) significantly more written information will be provided on containers.
Bob Worley, from CLEAPSS, writing on the RSC'sTalk Chemistry forum recommended that 'during this confusing period, it might be better to teach both [the new and old] series of symbols. But in time, the CLP symbols will be global.'
Also coming into force are the REACH regulations, which require chemical suppliers to register, evaluate the hazards and possibly require authorised use of chemicals. 'Unfortunately, I have seen many mistakes in education catalogues so it has not and will not settle down yet,' says Worley.
Related Link
CLEAPSS secondary science guidance
Log in and download guidance on the new CLP regulations