Josie Harries has been working for Domino Printing Sciences for five years and has been an ink development manager there for the last year. She talks to Laura Howes about her typical day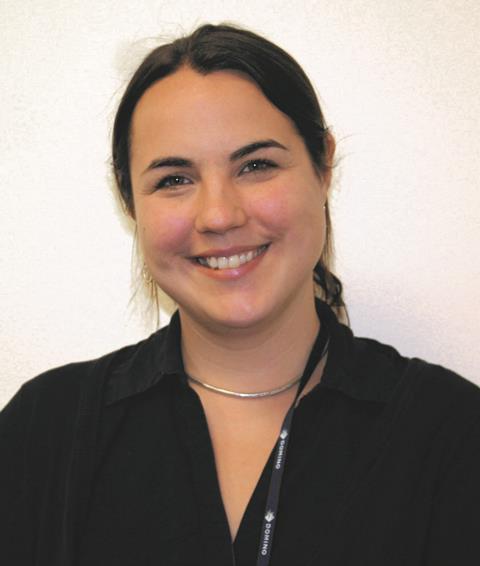 Domino Printing Services is a global company that provides the inks and printers for 'coding' onto packaging and products. The coding might be the best before dates on your crisps or a 2D barcode on your shampoo that allows the manufacturer to track that individual bottle. Domino's products have to print variable data quickly and legibly on a huge variety of surfaces – the technology that prints the lion on your egg won't be right for printing on a shiny metal surface for example – and as more and different products are created, Domino have to come up with new ways to print onto them. Ink Development Manager Josie's job is to manage a team of chemists and develop new inks for people to use.
Market forces
Josie explains that inks may need to be developed for many reasons but often it's market led – a company will come to Domino with a problem and Josie's team have to create a new dye based on their brief. Other reasons for ink development include new legislation that means that existing dye formulations can't be used anymore, or because a company want a new colour. Josie describes formulating new colour inks as quite easy but fun because most of the inks she works with are black. The black inks are also why Josie wears a dramatic black lab coat, rather than the white ones you might be more used to.
Josie currently manages a team of four chemists, who will be working on several projects at the same time. When Josie first gets in, after a coffee, she will sit down and look at the plans of the team and how their projects are progressing. Josie tries to have a weekly one-to-one meeting with each of her staff so that they can talk through their results and make sure everything's OK.
The team also have planning meetings where they talk about problems they are aware of and how to solve them, for example reducing the environmental impact of current ink formulations. After talking about new materials they've heard of, or new samples from a supplier, the team might play around in the lab to experiment with their idea.
Jet set printing
Domino is a global company and the inks that Josie designs in Cambridge might also get sold in China. Because of this, Josie sometime goes out to Domino's other offices around the world to meet the sales teams in those countries. It's important that Josie can make personal contacts and learn about problems that people face in other countries. For example, if the sales team are having trouble selling a product, Josie can find out why that is and then go back to her team in Cambridge to work on that problem.
The best bits
Like other people at Domino, Josie attends scientific conferences that are not necessarily in the precise area that she works in. This allows her to find out about different areas of science and technology that she can apply back in the lab, introducing novel things into her products and bringing innovation into the company.
However, Josie also admits that one of the best bits of her job is being able to make a mess in the lab.
Pathway to success
2009-present, ink development manager, Domino Printing Sciences, Cambridge
2007-2009, Senior Chemist, Domino Printing Sciences, Cambridge
2005-2007, Chemist, Domino Printing Sciences, Cambridge
2005, PhD in Chemistry from The University of Manchester
2002, Chemist, Avencia, Manchester
2001, BSc in Chemistry from The University of Manchester
1998, Chemistry, Biology and Physics A-levels, Simon Langton Girls School, Canterbury
This article was originally published in InfoChem