Ida Emilie Steinmark talks to a chemist who gave up a career as a footballer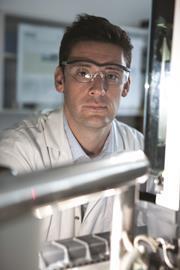 Chemistry doesn't have to be your first choice to become the right choice: that's the lesson that Charles West learned when he decided to give up his boyhood dream of professional football to do a chemistry degree.
Living the dream – almost
Before chemistry entered his life, Charles was playing football all day long and was excited about a future as a professional player. 'Playing football was such a big part of my childhood, and as I got older, it was mentioned to me that I was good enough to consider doing it for a living as a professional, so I just continued to pursue that,' he says.
But despite his great potential, he picked up a serious injury. He tore the ligaments in his ankle and, though they healed, it meant his footballing career was going to be limited. 'Prior to that, some of the much larger football clubs were interested in me, but unfortunately, I never had any contact from them since,' Charles says.
Instead, he had the opportunity to play for the smaller club Hereford United. But he wasn't satisfied: 'It was at a level that I wasn't happy with as a career,' he explains.
Preparation that came in handy
Fortunately, his parents had insisted he finished his A-levels before pursuing football. 'I always had the option that I could go to university, whether that was when I was 25 or 45. I kind of just hedged my bets,' says Charles.
It turned out to be the way out of the disappointing career: he soon received the offer to study chemistry at Plymouth University. 'I'd always enjoyed science,' he says, '[but] to be honest, I had no idea of what I wanted to do. I thought chemistry's a better choice than biology – I enjoyed both subjects, but chemistry seemed much more useful for a wider range of jobs.'
What he really wanted was a new challenge: 'As a youngster I never thought beyond becoming a professional [footballer]. But then I achieved my aim, and I looked around and thought; my aims have changed. I wanted to achieve something in another discipline. An academic topic was more of a challenge, and I'm naturally competitive,' he says.
Discovering a new passion
His competitiveness also meant that he didn't want to end up bottom of the class, so in the twelve months he had between leaving Hereford United and starting lectures, he made sure to catch up. 'I was driven to know as much as I could, and then to get to university and ask the academics questions … it was great fun,' he says.
His undergraduate degree was focused on analytical chemistry, which gave him a lot of practical experience. He enjoyed this work so much he decided to continue in the academic world and do a PhD, specifically focusing on the breakdown of pharmaceuticals like Valium and Prozac. But something else, which was going to shape his future career, caught his eye in the lab: oil.
A truly satisfying career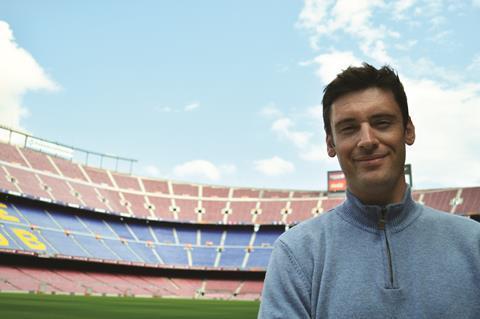 He was offered a position trying to find ways of 'fingerprinting' oil: 'The forensics of crude oil, basically,' he explains. A lot more researh into oil followed, and before long, the chemical industry showed an interest in his work. 'Saudi Aramco [a Saudi Arabian oil company] were very interested in our research. They offered me a job,' Charles says. 'It was an offer I couldn't refuse.'
Now he has moved to Saudi Arabia to start his new job in industry, the second major career change of his life. His route from footballer to academic to industrial chemist might be unusual, but he's certainly where he wanted to be: always on his way up.
Pathway to success
2014–present, Research geochemist, Saudi Aramco
2009–2014, Research fellow, European Research Council, Plymouth University
2007–2009, Research fellow, Foreign and Commonwealth Office, Plymouth University
2002–2007, PhD, organic geochemistry, Plymouth University
1999–2002, BSc, analytical chemistry, Plymouth University
1996–1997, Professional footballer with Hereford United
1994–1996, A-levels in English literature, law and computer science
Charles was initially interviewed by 175 Faces of Chemistry http://rsc.li/175-faces
This article was originally published in The Mole