Emma works on magazines and books, sourcing scientific illustrations and photographs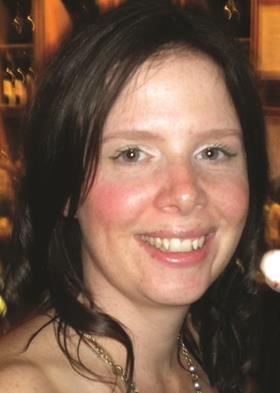 It's not often you hear someone refer to themselves as both a scientist and artist, but Emma counts herself as one of the lucky ones. If you had asked her 15 years ago what she wanted to be when she grew up, she would have said 'a vet'. That changed when studying chemistry at A level, with the help of a truly inspirational teacher. Emma soon realised there was more to it than just salts, acids and alkalis. She continued studying chemistry at university and discovered her passion for practical lab experiments. Two chemistry degrees later, she decided to hang up her lab coat and venture into the world of chemistry publishing.
Art of science
Emma's first few years at the RSC saw her working on chemistry journals, handling submissions, sending papers for peer review, commissioning new articles and launching a new journal. She was lucky enough to travel the globe for various scientific conferences and meetings along the way. Now Emma is part of the RSC design team, sourcing pictures and illustrations for the organisation's magazines. Emma said 'I never thought I would end up working on scientific magazines looking at pictures day in, day out. This is the best job in the world and I'm loving every minute of it!'.
Left brain: right brain
Neuroscientists agree that the left side of the brain is used for logical thinking such as for science, maths and languages. When it comes to images, imagination and perception we use the right side of our brains. Emma says it's interesting to know her job requires both her scientific knowledge and artistic skills on a daily basis, so we can confidently assume that her whole brain has a workout each day!
A picture paints a thousand words
No two days are the same. In a typical day, Emma sources images for Chemistry World online stories that are published daily. Time is of the essence as often a science journalist will have a breaking news story, so she needs to be quick in finding the most suitable picture to accompany the story. 'Sourcing images is usually straightforward when you know where to look,' says Emma. 'Luckily I have access to several online image libraries where I can view up to tens of thousands of images.' Emma has introduced more illustrators and cartoonists to the magazines, to help bring more light-heartedness to the stories and balance out the more serious news being reported.
One of the tasks Emma enjoys most is the challenge of finding a striking image for the front covers that has a 'wow factor'. 'It's exhilarating to know that up to 50 000 people read a magazine I have helped produce and are admiring some of the artwork and images used. Even if the illustration has just helped someone understand the science better, or a photograph has stopped someone in their tracks and made them want to find out more by reading the article, then I know I have played my part. I like to think I am helping to advance the chemical sciences in some way, even if it's just through eye catching imagery – as they say, a picture paints a thousand words.'
Pathway to success
2010–present, Picture editor, RSC
2009–2011, Development editor for the general chemistry journals, RSC
2007–2009, Assistant editor for Chemical Communications journal, RSC
2003–2007, PhD degree at Manchester University
2000–2003, BSc degree at Cardiff University
1998–2000, A levels in biology, chemistry and physics at Coed-y-Lan comprehensive school, Pontypridd, South Wales
This article was originally published in The Mole