Michael Seery reports from the conference for chemistry teaching and learning in higher education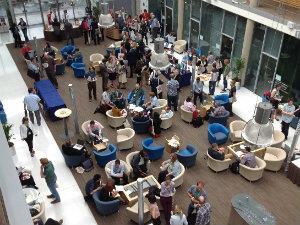 The annual Variety in Chemistry Education/Physics Higher Education Conference (ViCEPHEC) was held last week at the University of Nottingham. Local host Kyle Galloway and the organising committee put together a great programme. Here are some of my highlights.
"Teaching by telling is ineffective for most students"
The meeting opened with a great keynote from Paula Heron, a physics education professor from the University of Washington. Her talk discussed the impact of teaching innovations, defined as anything that differed to the traditional lecture. While agreeing there was a basis for innovation – only 20% of students were able to answer questions eliciting understanding after instruction – she found some approaches were better than others. For example, classes treated to a demonstration about a particular topic saw an increase in correct post-instruction scores, whereas classes where students in small groups worked on predicting and experimentally testing outcomes saw little change in post-instruction performance.
With agreement from many in the room, Paula argued that 'instruction needs to be evidenced based, not ideology based'. To this end, the second part of her talk described an impressive suite of tutorials designed to elicit discussion and address misconceptions of students.1,2,3
In the lab
Rossana Wright from the University of Nottingham discussed their approach to lab assessment – lab reports are submitted online through the virtual learning environment. The emphasis is on improving the feedback experience by using grading rubrics and forms, with the option for annotating student documents and recording audio feedback.
Also on lab work, Nimesh Mistry from Leeds described how inquiry elements could be incorporated into first year teaching labs. Students were asked to design their own purification methods, including liquid-liquid separation and finding a suitable solvent for recrystallisation. These were incorporated into the weekly laboratory roll-out by asking students to complete a pre-lab quiz and experimental design in advance of the lab; checking their approach with lab supervisors and carrying it out; and completing assessment and reflectiongon the process afterwards.
Peer assessment
Peer assessment also featured. Judy Hardy from Edinburgh described an activity where students compare pairs of student assignments and state which of the two is better. The aim was to encourage peer dialogue and self-reflection. Judy made a good point: academics are good at identifying good work as we are exposed to large volumes of it. This project helped to develop student understanding of what a good piece of writing is. Anna Bertram from Nottingham also discussed peer assessment, with some successful outcomes of a project where students opted in to peer-assessing organic chemistry lab reports.
Maths
Maths for chemistry was another theme of the conference. Samantha Pugh from Leeds and Michael Grove from Birmingham gave a presentation on some perceptions of maths for chemistry. After setting the audience a task in advance to read their recent EiC article, there was a discussion on where maths should be placed in the chemistry curriculum (preference for being embedded within chemistry modules where needed) and whether chemistry at university should require an A-level mathematics qualification.
Gita Sedghi spoke about a maths for chemistry module at Liverpool where students complete problem solving workshops complemented with online tutorials on various mathematical concepts. The material is assessed entirely through continuous assessment. She found that students without A-level maths struggled with mathematical concepts, and all students struggled with mathematical concepts when they appeared in chemistry.
Engaging online
Twitter use at the conference was higher than ever this year: Simon Lancaster found 240 people tweeted 2236 times to the conference hashtag #vicephec15. Even the pre-conference discussion merited its own Storify. A draft Storify from Simon Lancaster is now available, capturing the discussions over the two days. Twitterers might be interested in following the new RSC Higher Education Group account @RSC_HEG.
#VicePhec15 - the most engaged and twittering conference I ever went to. Surely a model for student interaction & learning??

— David K Smith (@professor_dave) August 22, 2015
With workshops on learning theories, new context based learning resources from the RSC, IPython notebooks, STEM clubs, and getting published in education research; a Friday morning walk exploring ecopedagogy and plenty of discussion on the side-lines; delegates left on Friday tired but satisfied, with lots of ideas to take back to their home institutions. #ViCEPHEC15 will undoubtedly have an enormous impact on the teaching of physics and chemistry in the UK and beyond. I'm looking forward to next year already.
Michael Seery is a reader in chemistry education at the University of Edinburgh
References
L G Ortiz, P R Heron, and P S Shaffer, Am. J. Phys., 2005, 73, 545 (DOI: 10.1119/1.1862640)
P R L Heron, Phys. Rev. ST Phys. Educ. Res., 2015, 11, 010102 (DOI: 10.1103/PhysRevSTPER.11.010102)
H G Close, L S Gomez, and P R L Heron, Am. J. Phys., 2013, 81, 458 (DOI: 10.1119/1.4797457)