How did you get into your current role?
I started off an undergraduate in Sports and Exercise Sciences at the University of Limerick in the Republic of Ireland, and I graduated from there and I went straight over to England, to Loughborough University where I undertook a masters in Sports and Nutrition, and upon getting a good grasp of the lead athletes there, I quickly found my footing and I went to do a PhD in Wales with the Wales Rugby Union and the University of Glamorgan. Following my PhD I went to the English Institute of Sport, where I worked with some of the lead athletes in the system for 2 and a half years, and upon leaving there I came and commenced employment at the British Olympic Association.
What does your current role involve?
My current role nvolves a number of distinct roles within the organisation. The primary one is to lead and develop sports science-related projects with a number of sports in the lead up to, and following, our Olympic Games in 2012. It's no coincidence that world records and personal bests are continually broken, chemistry has a big part to play in that, in terms of answering solutions and making sure that we individualise our training programmes as much as we can. Having a good chemistry profile on an athlete will help us dictate that and give us the best performance solution, matched to the individual athlete in question.
The role of chemistry is fundamental to my job, in that no matter what aspect of physiology or human biology you work in, you always have to bring it back to the basics. And for me, the very basics is chemistry itself, it's the metabolic machinery, it's what's going on at a cellular level, so for biochemistry is a crucial component to what I do on a daily basis.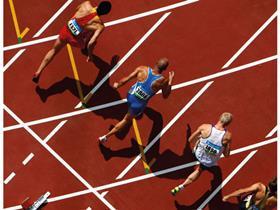 A project we've got going on at the moment is looking at different recovery strategies and how we can optimise that in the field, and to give you an understanding of some of the chemistry involved, we traditionally take some blood samples or saliva samples to monitor how different proteins change and different metabolic profiles around some of the post-exercise samples that we take. The end goal is always to improve performance, no matter what our project focus is, it should really have a performance focus and have some clear rationale as to what we're actually doing.
Yes we do carry out some innovative work here and that may not have performance, or immediate performance benefits today but ultimately what we're trying to answer is some of the questions for tomorrow as well. I can see some vast developments in the future, trying to bring the laboratory on to the field, and that has quite similar parallels to actually mainstream medicine itself. I guess some of the biggest frustrations for a medical doctor or a sports science or exercise physiologist is having to take a biological sample and send it to a laboratory and sometimes you could be waiting days or up to weeks for that feedback to come back.
What are the opportunities for career progression?
I think one of the main areas of development for the role of a chemist is to actually liaise with some of the technology-driven solutions that are currently out there, and making sure that we can extend the laboratory analysis and we can extend that into remote, compact and easily transmitted results in the field itself.
There are vast opportunities for people with a mainstream chemistry degree, simply because you've got so much of an advantage over other people in other positions because from a human biology perspective you can relate it back to the very cellular level. What the key is, in trying to specialise that approach is making sure you apply it as much as possible. That could be in technology, it could be in sport, it could be in medicine, so just try and keep an eye, what does it relate to and how can I actually affect that? I've been very lucky in that I've always had modules in mainstream biochemistry throughout my academic career, it has provided me with the reassurance that when I am reading a scientific journal, or a coach asks me a question; I have that weaponry to actually say 'well I really think from a cellular level what I'm saying is correct', because I can start linking A to B and B to C. I think without a clear understanding of what goes on at a cellular level, it's very difficult to be able to answer those questions correctly and confidently.
What advice would you give for people wishing to enter your career area?
If someone wanted to get into my line of work I would probably advise them to get a good understanding of basic sciences first and foremost, so that would be biology and chemistry. I would always tell them to keep an eye on other industries, so you can actually apply that and try and get as much work experience, maybe just an internship, or asking to shadow someone for a day or two in industry but trying to bridge that gap between what happens in a laboratory and basic science to what goes on in the field I think is where the vast majority of employment is going to be, certainly from an exercise, physiology perspective.
First published 2011
Additional information
Warning - this video contains blood and scenes of blood being taken from a patient