Royal Society of Chemistry is the first Cambridge Science Park organisation to install solar panels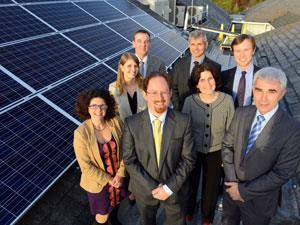 The Royal Society of Chemistry has become the first organisation on Cambridge Science Park to install solar panels at the society's Cambridge home, Thomas Graham House.
Clare Viney, Royal Society of Chemistry executive director of communications, explains that the organisation is committed to sustainable energy, saying: 'Our solar panel installation is a symbol of how the work of the chemical sciences community connects to the economy and brings sustainable solutions to global challenges.
'Chemistry research and innovation has contributed to new solar energy technologies, better batteries and new fuels. Solar energy has tremendous potential to play a key role in achieving a more sustainable energy mix and the Royal Society of Chemistry is determined to play its part in achieving that vision."
The ceremony to switch on the 50 KW photovoltaic system was attended by Dr Julian Huppert MP, representatives from Sharp who manufactured the 200 solar panels at its plant near Wrexham, UK and Evogreen, a local company from Newmarket, who installed them.
Supporting the RSC's Chemistry: We Mean Business campaign, Education in Chemistry and The Mole have published several articles showcasing the importance of these sustainable energy solutions.