Simon Cotton and Daniel Johnson query doping in athletics
Both football and athletics were rocked by doping allegations this summer, and two molecules with very similar structures were at the heart of the matter.
First came athletics, as two of Jamaica's finest sprinters, Asafa Powell and Sherone Simpson, tested positive for the banned stimulant oxilofrine. Tyson Gay, holder of the third fastest 100m time in history, also tested positive for a banned substance, but the drug in question is as yet unknown.
The second scandal threatens to rewrite decades of sporting history. A report by scientists at Humboldt University in Germany claims that institutionalised doping was rife in West Germany. The study includes the revelation that three footballers in the West German team that faced England in the 1966 World Cup were taking ephedrine, a close relative of oxilofrine. Such aspersions threaten to devalue the (huge) sporting achievements of West Germany, just as doping allegations did for the achievements of their East German cousins.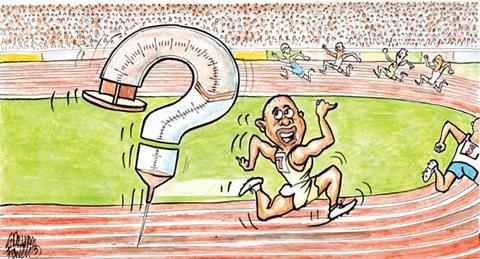 Lean, mean, fat-burning oxilofrine
So what are these drugs? Oxilofrine (also called methylsynephrin) and ephedrine are both members of the amphetamine class of stimulants. Oxilofrine was originally developed to treat low blood pressure, while ephedrine has for centuries been used in traditional Chinese medicine, as it can be isolated from the plant má huáng.
Both stimulants work byprompting the body's production of biogenic amines like norepinephrine, a molecule that pumps up heart rate and increases blood flow. By speeding up metabolism, molecules like oxilofrine promote weight loss. For this reason, these 'fat burners' are often included in dietary supplements.
Deliberate or unintentional?
In the case of the sprinters, did they purposefully cheat? A potted history of the sport inspires no little cynicism. Of all the Olympic champions over the last 30 years, only Usain Bolt and Donovan Bailey have escaped doping allegations. But there is a chance that Powell, Gay and Simpson did not know that they had been taking a banned substance. Powell vehemently denied he had knowingly taken the drug: 'I am not now, nor have I ever been, a cheat', he said. His agent admitted that he was taking about 20 different supplements, any of which could have contained oxilofrine as they are often poorly labelled.
Gay's situation is particularly embarrassing as he was seen as a role model for clean athletics and had taken part in voluntary testing programmes. 'I don't have a sabotage story,' he said, 'I basically put my trust in someone and was let down'.
Perhaps we will never know whether Gay and Powell cheated intentionally or not, but it is their own reputations which will be tarnished, whatever happens. The same may now apply to West German footballers.