Sarah McLusky profiles a sixth form student on the hunt for protein biomarkers
While her friends were enjoying a break from school, and her family went on holiday without her, Charlotte Duff, a sixth form student from Whitley Bay High School in Tyne and Wear, UK, spent last summer nurturing a culture of bladder epithelial cells in a lab at Newcastle University. Her dedication paid off: she was recently awarded the Royal Society of Chemistry prize in the finals of the 2015 National Science and Engineering Competition at the Big Bang Fair.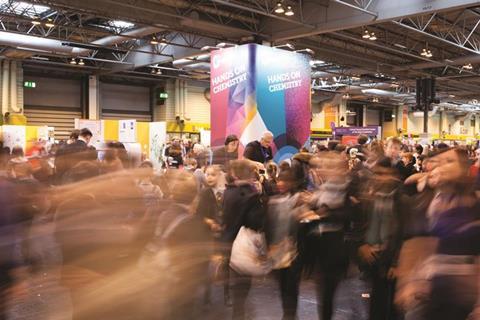 Real science, real lives
Charlotte's project focused on the diagnosis of urinary tract infections (UTIs). Such infections are very common, and usually easy to treat, but resistance to the most frequently used antibiotics is increasing. Current tests for UTIs can be unreliable and diagnosis is particularly difficult in elderly patients, who are most at risk of complications such as kidney failure. A more effective diagnostic test would be welcomed by the medical community. Any new tests would most likely be based around proteins. If a protein is always found in infected patient's urine, but never in healthy urine, it could be used as a 'biomarker' and provide the basis for a quick and easy clinical test.
Charlotte studied three potential biomarkers, all proteins that might be secreted by bladder epithelial (lining) cells when challenged by bacterial and fungal extracts. She learned a number of different techniques to analyse the production of these proteins, including cell culture, RNA extraction, PCR (polymerase chain reaction) and gel electrophoresis. Charlotte's research ruled out two of these proteins, but the third still needs to be investigated further.
Despite missing out on her holidays and working long days, Charlotte loved the fact that she was learning something new every day. She particularly enjoyed the cell culture process and became quite attached to her cells while growing and feeding them. Charlotte says she was well supported by her project supervisor, Alison Howard, research support specialist in the Institute for Cell and Molecular Biosciences at Newcastle University. 'She made it really interesting and took the time to explain things clearly, sometimes with little diagrams.'
Winning method
Indeed, the judges, all Royal Society of Chemistry members, were particularly impressed by how well Charlotte understood and could explain the techniques she had used. Michael Whitehouse, project development manager at RWE Generation UK, said: 'What set Charlotte's project apart from the majority was that she had used a variety of very different measurement techniques and become familiar with them in a short period of time. Some parts of her project had worked and others had been more difficult. But she persevered and was not discouraged. She also understood the value of what she had achieved. That is the mark of a potentially very good researcher, especially for someone at such a young age.' Fellow judge Helen Willcock, lecturer at Loughborough University, added: 'I was then impressed by Charlotte's capacity to personalise her project by linking it to her own experiences, and by her overall enthusiasm for the project and for chemistry as a whole.'
Charlotte's project was funded through the Nuffield Research Placement scheme and was overseen by Alison in collaboration with Judith Hall and Marieke Emonts-le Clercq. 'Last year I was involved with a programme that fosters interactions between researchers at the university and local schools,' Alison explains. 'This made me realise that it's important to offer opportunities before students have made their choice of degree courses.'
Indeed, this project has been life-changing for Charlotte. She originally planned to study engineering, and opted for A-levels in mathematics, physics and biology, but after an uninspiring work experience placement she began to look for alternatives. The Newcastle placement has opened her eyes to a whole new world, and she is now staying on at school to study A-level chemistry and hopes to pursue a degree in medical microbiology or an apprenticeship in the pharmaceutical industry.
Back to school
Charlotte is not the only one to benefit from the project. 'Charlotte's work has been, and will continue to be, of great value,' Alison says. 'Based on her initial studies, we have already secured additional funding for further preliminary work and will be submitting applications for continuation studies later this year'. She adds: 'Her enjoyment and excitement about the work, reminded me that what we do on an almost routine, day to day basis, is in fact by no means mundane and ordinary. Showing someone something for the first time, and seeing that they understand and appreciate it, was a really rewarding experience.'
Charlotte's success is also benefiting her teacher and fellow students back at Whitley Bay High School. Her biology teacher, Alan Keegan, said: 'We are so proud of her. She has done all this off her own bat and it has really opened our eyes to the opportunities that are out there. Her up to date knowledge means she has even been teaching me new things.'
So, what is Charlotte's advice to anyone thinking of following in her footsteps? 'Just go for it! Although the judging process was nerve-wracking, it was amazing to be part of it. I didn't realise how good it would be.'
The Royal Society of Chemistry is supporting 50 Nuffield Research Placements each year for the next three years. Visit bit.ly/X8l43Y to find out more about the scheme.
Could you see yourself in Charlotte's place this time next year? Start your journey by entering project work into the regional finals, which will be held at Big Bang Near Me fairs around the country in the summer term, to find your nearest fair. Visit their website to find your nearest fair.
This article was originally published in The Mole