What did your department's technician ever do for you and your students? Plenty – and they're taking on more and more
It's a perfect storm. Technicians are needed in the science classroom more than ever, and yet their numbers are dwindling and training is being cut.
'It feels like you are PA to 12 people all at the same time. You have to know their schedules … and you have to be psychic too,' suggests Kerry Lawrence. Kerry is one of three technicians working across ten labs at an academy school in South Yorkshire. When she started out ten years ago 'technicians were invisible in the classroom – you were never introduced.'
That's all changed.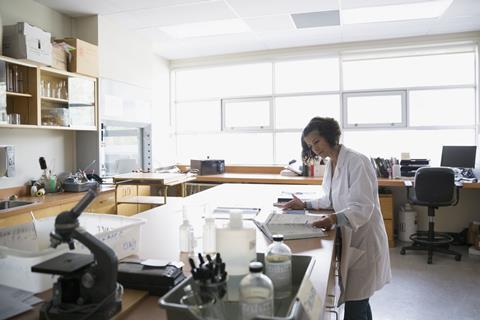 According to Paul Cook, an academy technician who also trains others around the country, 'there's been a massive exodus of experienced teachers … we now have a wave of NQTs and Teach Firsts who last did practicals when they were at school. So it's down to the technician – we are becoming the practical advisers in the department. A lot of coaching and mentoring goes on – we give risk assessment advice, age group advice, walk them through practicals.'
He adds: 'You've got to put yourself out there and come out from the prep room.'
Michael Wilson, a college technician with over 40 years' experience says lecturers 'understand the better we work as a team the better it is.
'We're all well qualified and highly experienced. We lead the newer members of the department … and we're there to say – if you do it like this, it'll work better; if you do it like this, it might not work.'
Experimentation
The technicians who spoke to Education in Chemistry were all clear: the job requires enthusiasm, imagination and dedication. 'There's always something new to find out; always a better way to do something,' says Michael.
'You should be trying out the experiments and investigations they [students] do. Methods that come from exam boards are dependent on type of equipment the school has. Reagents differ, so often you need to tweak,' suggests Ellen Morrison – one of an increasingly rare breed of technicians with a year-round job. There's evidence that the number of technicians in schools is falling. For science technicians, the most recent DfE figures put the number at 5960 in November 2017, down from 6510 in 2012. And numbers are falling across all groups – from science to art.
There's nothing more frustrating for students than a practical that goes wrong

Rachel Chilton
'Teachers often want to demonstrate how something works, but they might not have the capabilities or have experienced the method themselves. You really do have to be creative,' she adds.
When chemistry technician Katherine Harris joined her school, 'kids had seen the same demos over and over again.' Exploring practicals for students looking at covalent structures, Katherine found a video showing that a thick line of graphite from a pencil could carry a current. She tried out different arrangements of transistors – three soldered onto a backboard did the trick – and pupils had fun experimenting with how long a line they could draw and successfully detect a current.
Rachel Chilton, a physics technician will spend a lot of time fine-tuning if needs be. 'It's really important: there's nothing more frustrating for students than a practical that goes wrong. When it does, the students tend to disengage,' and she will feel the responsibility. Trialling practicals is especially important for A-levels. The work is 'very specific, so much more intricate … it needs to be absolutely perfect,' suggests Kerry.
Let's talk
The best relationships, not surprisingly, centre on good communication.
Sharon Watson shares a prep room with five teachers, and works from trolleys. 'Communication between teachers and technicians is vital. I don't think you should be afraid to question or give advice – especially for health and safety.' Communication also means getting enough advance warning of requirements: 'we don't want to miss things or make mistakes. Sometimes requests are last minute and we try our best …we're here for the kids. I would rather try my hardest to get something ready even if it's not a full class set.'
Over the 17 years Rachel has been a technician , 'everyone has become so much busier and more stressed … everyone has a lot less time. I try to take on more to alleviate the pressure [on teachers].'
#technognition
For all their efforts, there's often no recognition outside the science department of how vital a technician's work is. Rachel is frustrated to hear the role described as 'washer-upper' or science teachers' 'little helper'.
Nor is there meaningful career progression. 'We are at the bottom of the food chain,' asserts Paul. 'Schools don't see our development as worthwhile. A lot of technicians don't have performance or pay reviews. When it does happen, there's no raise and no promotion available.'
Now training is in shorter supply says Michael, with cuts to courses offered at the national STEM centre in York, and school budgets under ever more pressure.
However, it's a job he and others wouldn't give up. 'I've been lucky with the team … and found it a really rewarding job to do. If there was a long-term career path – I'd be happy to stay as a technician,' says Katherine.
Kerry will soon become the senior technician at her school: the current post-holder has been doing the job for 30 years. Technicians, she says, are 'never in this job for the money – they're in the job for the love of it.'
#Techognition runs 4–8 March.

Angeli is a freelance science writer