A former admissions tutor reveals what students should really care about when choosing an undergraduate chemistry course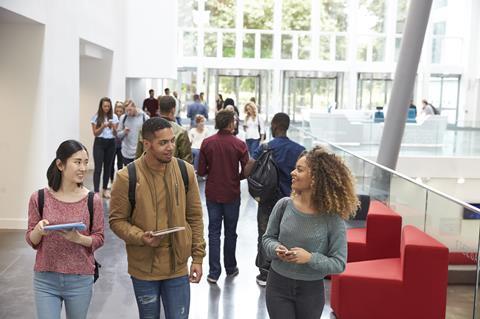 This term, the next cohort will begin to think about life after school. For those considering higher education, choosing the right university is one of the toughest decisions any individual will make. In an era of high tuition fees, a degree represents a massive financial investment, and any prospective chemistry student needs to weigh up lots of options before applying.
There's a multitude of league tables and a sea of information about universities and courses. But what should students really care about in their decision making, and how can teachers help them decide? As a former university admissions tutor, I recommend teachers advise students not to be shy of asking lots of questions, and to gather all the evidence before making a decision.
First and foremost, students need to be sure chemistry is the right degree for them. It's a demanding subject and broader than many people realise. When the going gets tough, which it will from time to time, commitment and passion for the subject help. The rewards make it all worthwhile though. Students leave with a deep understanding of the processes that drive the world around us and a diverse skillset that enhances employability throughout a career.
Beware of spin and axes to grind
Departmental websites provide key details about courses and their requirements, but beware of spin – universities have invested heavily in marketing in recent years. So, be sure to look beyond the sheen and examine the substance beneath.
Searching an online student forum such as The Student Room can be insightful, and will generally present a range of views. However, students should treat isolated examples of overly critical comments with care, as these are sometimes posted by disgruntled students with an axe to grind. Nonetheless, numerous examples of such comments may warrant further digging.
Look beyond the sheen and examine the substance beneath
League tables are certainly a useful guide when scouting potential institutions, and those at the top will have earned their place. But, bear in mind they're based on data from a year or two ago, and lower-placed universities may already be implementing new strategies that enhance students' experience in the years to come.
The new Teaching Excellence Framework (TEF) awards also bring together a range of data, which is useful for comparative purposes. But many in the university sector have questioned the TEF's value, citing its failure to measure actual teaching excellence. In addition, it compares entire universities rather than individual courses.
Given the limitations of information online, it is vital students visit the universities they are interested in to do their own detective work.
Get out and about
Students should attend as many open days as possible to get a sense of which type of university suits them. At the extremes, there are campus- and city-based universities, and many institutions with features of both. An open day is an opportunity to tour facilities and meet staff and students.
Prospective students should think about the questions they want to ask, and be proactive in asking them. Asking how many students have been accepted in recent years with grades below the standard offer will provide insight into the nature of the cohorts already studying at the institution, and reassurance for those not sure they'll get the grades.
Views of current undergraduate students will be particularly insightful
The views of current undergraduate students will be particularly insightful, and will help verify what university staff say. Key questions might be: 'what's the staff to student ratio in tutorials, workshops and labs?' and 'will I be able to get support if I'm struggling with a topic?'
They need to find out how teaching is delivered and what support is available. Many universities have invested heavily in learning technology over the last decade, and lecture recording is now commonplace. It is likely this will be mentioned in open day talks, but it's something else to ask about if not.
The proportion of students that pass first time at the end of years one and two, and what proportion make it to graduation is important to know. This will give an indication of the support on offer and the engagement of students in the programme.
Think into the future
If students are interested in broadening their education, a combined honours programme may be attractive. However, students should ask about the level of coordination between the different subjects, as some programmes are merely cobbled together from pre-existing, disparate modules. Some straight chemistry degrees offer opportunities to take modules in other subjects.
Courses that offer placements are popular given the employability benefits. Good questions might be: 'how many students do you place each year and which companies or universities are they placed at?' and 'what support is available in finding and applying for placements?' It is also worth finding out what proportion of students who want a placement actually get one. Students may also want to ask about financial arrangements, for example by asking, 'do I have to pay fees during the placement year?'
If it feels right, then perhaps it is right, but students should look at all the evidence and make an informed decision
Perhaps most importantly, your students should find out about the employability of graduates: 'what career paths have graduates followed in recent years, including those based outside of chemistry, and what are starting salaries like?' A high proportion of graduates going on to postgraduate study can indicate students have enjoyed their undergraduate programme and want to further their chemistry knowledge.
Once they have all the answers, it's decision time. Gut feelings can be useful here – if it feels right, then perhaps it is right, but students should look at all the evidence and make an informed decision.
The author is a former UK university admissions tutor