Helen Rogerson shares her highlights from the Association for Science Education annual conference at the University of Birmingham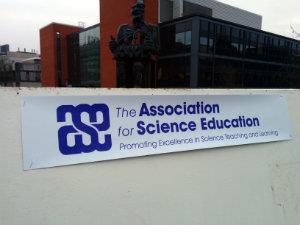 Before I arrived at the conference I had some aims in mind: to find out more about the new GCSE specifications and resources, to learn something new about an area of science, and to engage in some debates about the future of science education. I am happy that I accomplished my mission.
The first session I went to was from an exam board about their new GCSE specification. They explained what the board were working on, how they planned to support teaching and how they were conscious of the issues schools may face with practical work. The enthusiasm of the presenter was infectious and helped to relieve some of my tension over the implementation of the new GCSEs.
Speaking to awarding organisations at the exhibition was a very positive experience. It became clear to me that the people who work for exam boards want to produce qualifications that provide the very best experiences for young people within the constraints they face. This will mean a lot to me when things look bleak in the run up to the start of the new GCSEs.
I learned about the College of Teaching. The setting up of this body seems to be controversial in some circles. Listening to Angela McFarlane, a founding trustee of the college, during her session and then taking part in the debate on Thursday afternoon, convinced me this is something worth supporting.
I also heard from Lucie Green (space scientist and TV presenter), Steve Jones (emeritus professor of human genetics at University College London) and new ASE president Danielle George. Lucie's passion for the sun almost had me immediately running out to buy a solar telescope. From Steve I learned rather more than I wanted to know about chimpanzee anatomy. His lecture was informative and engaging, a genuine highlight.
Danielle's passion for science education came across in her presentation. It was what I needed to inspire me in my teaching over the next term, reminding me of the opportunities that science teaching gives us. I return to school informed and invigorated, ready for the challenges ahead.
Helen Rogerson is a teacher at Westonbirt School