How Chinese and UK universities are working together to deliver degree programmes to Chinese students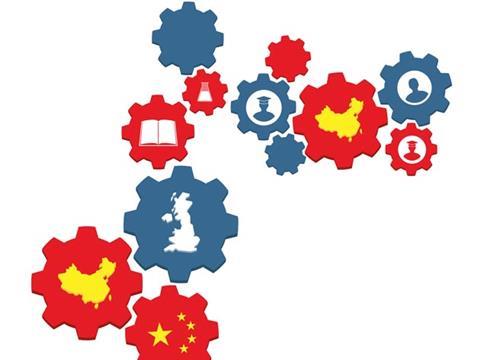 Universities have forged links with international institutions for many years. But recently some have started collaborative degrees, where students are taught both in their home country and also by subject specialists at a partner university.
Since 2011, the University of Sheffield and the University of Reading have delivered BSc (3+1) programmes to students in China, where students study chemistry for three years before travelling to the UK to complete their final year alongside UK undergraduates. The Chinese students are awarded two degrees – one from the Chinese and one from the UK institution.
The Sheffield programme was established with Nanjing Tech University (NJTech) with an initial intake of 29 students, increasing to around 60 students each year. Reading is in partnership with the Nanjing University of Information Science and Technology (NUIST) with an annual intake of around 40 students.
How do the programmes work?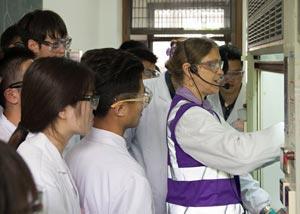 Collaborative programmes work in a variety of ways. One mode is where UK-based staff deliver the chemistry content in two-week blocks in China and the laboratory programme over longer periods of time. Another style is for Chinese lecturers with western educational experience to deliver the UK chemistry modules to the students in English, with UK academics visiting to teach for shorter periods. Alternatively, delivery can be via distance learning through video or conference calls to students, punctuated by visits from UK staff. All three approaches give students exposure to native English speakers and the staff who will teach them when they progress to the UK. Collaborative programmes are designed to ensure smooth progression in curriculum content from the first few years in China to the final year(s) in the UK.
There are differences in educational styles and teaching approaches between the two countries, and students need to be prepared for these when they come to the UK.1 The collaborative courses described here are quality assured by the UK partner institutions, as procedures in China may vary from one institution to another.
In order to prepare Chinese students for laboratory work in the UK, academics from Sheffield travel to China to deliver the laboratory practical modules, as well as addressing health and safety, risk assessments and COSHH procedures. The importance of laboratory notebooks, recording observations and writing full reports in an English journal style is also introduced. Reading adopts a different approach by having a two-week pre-sessional practical course in the UK for the Chinese students, prior to them commencing their final year. In this course, students cover different practical techniques as well as health and safety and report writing.
Collaborative courses
University of Sheffield BSc (3+1) with NJTech, China
Years 1–3 of the lecture course and practical classes are delivered by Sheffield staff in English at NJTech. Students at NJTech study the same modules as Sheffield students, they are examined in the same way and exam scripts are marked in the UK. Success in China with chemistry and English allows progression to Sheffield. Upon arrival, Chinese students undergo a six week intensive English course and laboratory course. Two other (3+1) Sheffield degrees are being delivered with NJTech: maths and physics.
University of Reading BSc (3+1) with NUIST, China
Years 1–3 of the course are delivered by Chinese staff in English with regular visits from Reading staff. Laboratory chemistry is delivered in NUIST. Currently, years 1–3 are similar to the first two years of the UK chemistry course. From 2016, the NUIST chemistry content will be identical to the Reading programme. Following the success of the chemistry model, (3+1) programmes in additional subjects are now offered and the joint Reading/NUIST Academy was established in 2015.
University of Liverpool BSc (2+2) and MChem (2+3) with Xi'Jiaotong–Liverpool University
Years 1 and 2 of the course are delivered by Xi'Jiaotong–Liverpool University (XJTLU) staff in English in China. XJTLU partners with the University of Liverpool for the delivery of undergraduate programmes leading to Liverpool awards, with XJTLU students opting to complete their degree by joining the second year in Liverpool. Students receive a dual award: one from the University of Liverpool and the other from XJTLU.
Keele University BSc Applied Chemistry (3+1) with Nanjing Xiaozhuang (NXU)
During the 2nd and 3rd years, Keele staff visit NXU in spring and autumn to deliver lectures and laboratory sessions in two-week intensive blocks. NXU students also study modules in sustainable chemistry and inorganic chemistry by distance learning. After passing the bridging modules, NXU students will study alongside existing 3rd year undergraduates at Keele for their final year. The degree programme started in September 2014 and Keele is still at the planning stages of their final year but will introduce advanced laboratory techniques, group projects and a variety of research and transferrable skills.
English language integration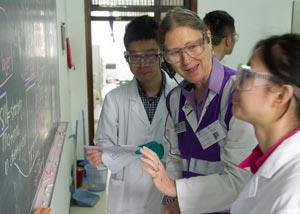 A major challenge for students is the English language. Aside from learning colloquial English, it is the lexicon of scientific terms required that really challenges them and they have to learn quickly. To address this, collaborative programmes are designed in such a way that students are taught primarily in English and begin to engage with a more westernised teaching style. Students also need to satisfy the partner university's English language proficiency criteria prior to transfer to the UK.
Sheffield delivers the first three years of the course in China in English, which gives students a better command of the language, especially scientific terminology. Assessments and exams are in English throughout the course and English support is continued in the UK.
For students planning to transfer to Reading, there are dedicated English language courses in years 1 to 3, and selected chemistry courses are taught and assessed wholly in English. In the summer before their final year in the UK, students are encouraged to attend a pre-sessional English course in Reading to enhance their language skills and help them acclimatise to living and studying in the UK.
However the course is delivered, English will continue to be a problem. One advantage for the new generation in China is that they are taught English from primary school and therefore have a wider vocabulary; this now needs extending to the scientific world.
Is it working?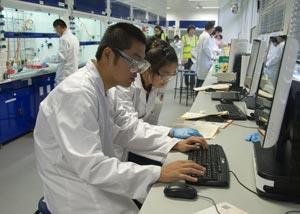 Another challenge is how to fully integrate large cohorts of international students with home students. Sheffield starts the integration process at NJTech with a 'pen pal' system, whereby second year students from Sheffield are linked with the Chinese students who will join them in year 3. This has proved to be successful and when the Chinese students arrive in Sheffield, a social event is held for all year 3 students. The Chinese students are then fully integrated with the Sheffield students in tutorials, project and laboratory groups. Student feedback suggests the laboratory setting really facilitates the integration process.
On arrival in Reading, the students are met by alumni from NUIST, now studying for master's or PhD degrees, and an informal welcome event is held with staff and students. In addition to integration within classes, Reading also has a dedicated Chinese support tutor, who is a trained chemist, responsible for the pastoral care and academic progress of the students. At both institutions, students have a personal tutor. Integration is a high priority for all universities in the UK and much work is being done to address this.
Gaining an overseas chemistry degree is a huge advantage to Chinese graduates when securing employment in China. In 2015, Reading and Sheffield each graduated one cohort of students, with more students due to graduate in 2016. Around 75% of Sheffield graduates and 50% of Reading graduates progressed onto master's degrees at a variety of institutions worldwide, showing how valuable a UK degree is for progression to prestigious universities globally. The remaining students returned to China where they have found employment in industry or teaching.
First cohort graduates from Sheffield and Reading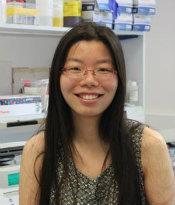 Catherine Hu Yuchen, University of Sheffield
I was attracted to the NJTech and Sheffield joint programme by the advantage of having two certificates and the reputation of both universities. It has been a wise choice. The chemistry department staff at Sheffield think highly of the joint programme and try their best to help us study chemistry. For international students, the department pays extra attention to the language barrier since it has a significant influence on understanding the learning materials. Also, I appreciate the effort the department made to involve us in the life here and overcome the cultural difference.
Catherine will start a master's course at the University of Cambridge in September 2016.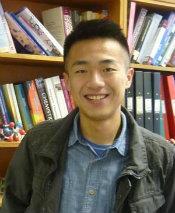 Kai Guo, University of Reading
We met staff from Reading two or three times a year in the first three years. The way they focused on guiding us to think was quite new to us but was very helpful. When I came to Reading, things were quite challenging. I had language problems and was taught some concepts I had never heard of but seemed quite familiar to local students, which was quite frustrating. As I learnt more and more, I started building up my own knowledge system and learning became easier. I chose to further my study with an MSc in chemistry at Reading with Chris Smith and now I am thinking about applying for a PhD.
Philippa Cranwell is a teaching fellow in organic chemistry at the University of Reading. Julie Hyde is a senior university teacher at the University of Sheffield. Elizabeth Page is professor of chemical education at the University of Reading
Acknowledgments: Jamie Wright (Sheffield), Mark Winter (Sheffield), Haijan (Karen) Shi (NJTech), Mike Ward (Sheffield), Katherine Haxton (Keele University) and Gita Sedghi (University of Liverpool)
Further reading
Top image © Shutterstock. All other images courtesy of Julie Hyde.