Independent research projects give students a richer understanding of what it means to be a scientist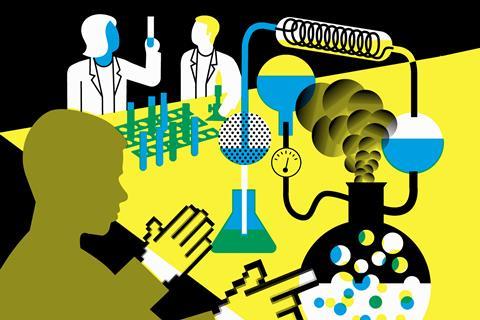 Recent studies suggest that it is good for secondary school students to participate in independent research projects (IRPs) as part of their science education. IRPs are student-led, open-ended practical projects which help students engage with science in a way that gives them a richer understanding of what it means to be a scientist.
However, coursework projects were removed from the A-level chemistry curriculum in England, Wales and Northern Ireland in 2015. They still remain part of Scottish chemistry teaching. Instead, students do required practicals which assess practical skills and knowledge in an external examination. If students in England, Wales or Northern Ireland want to do an IRP, they have to seek out the Extended Project Qualification (EPQ) or extracurricular programmes such as the British Science Association CREST Awards. But how can schools best support and encourage their students?
Drawing from our perspectives as an education researcher and a secondary school chemistry teacher, here are three ideas we recommend you try out in your own classroom.
1. Build a research community
Research is a team endeavour that brings together different skills and experiences to establish research communities involving a variety of key players: students from across year groups, teachers, technicians and parents. Invite former students, university researchers and industry representatives.
You can foster a sense of community by making research events social – visit a university research lab and allow your students to mingle with the scientists, for example, or host research-related social events like watching a film or visiting an exhibition relevant to the project. This will also help break down barriers between students, teachers and other professionals, and create team spirit.
2. Celebrate student research within and beyond the school
Generally, students have limited opportunities to share and celebrate their work within and beyond their school community. Researchers share their science at conferences by giving talks and presenting posters, but sharing research with the wider public – through public lectures or magazine articles, for example – is an equally important part of science communication.
Through IRPs, you can give your students an opportunity to develop their understanding of both the research itself and why it's important to the wider community. A simple way to start would be to display student research posters in classrooms and corridors and refer to them in lessons. You could also organise outreach events. Encourage students to share their passion for science by giving an assembly about their research at a local primary school, for example. Your students could even host an open evening where they invite the local community to attend a mini-conference; they could give small talks and display their posters. They will gain valuable experience in presenting to different audiences.
3. Encourage a diverse group of students to participate
Organising these kinds of trips and events requires good planning and organisation, and visits to primary schools especially rely on students who can communicate with younger students in an appropriate and engaging way. So a broad range of student skills are needed to make the events successful. Recognising these varied roles and promoting them to students will encourage a diverse group of students to participate in research, and may encourage more students to experience how they can contribute to the project and science in general. Teachers and technicians play a vital role in recruiting students so everyone can benefit from the IRPs.
Giving students the opportunity to do IRPs could heighten their awareness of many potential STEM career options they may not otherwise have considered. In addition to developing the obvious skills associated with problem-solving, lateral thinking and the scientific method, students also get to build valuable social networks. And students who decide to study science at university will inevitably be better prepared for their studies because of the skills and experience gained through doing IRPs. Finally, the process could also free them of the compartmentalised thinking they might normally encounter at school as well as helping them form better relationships with others.