What have finding a new partner and school outreach got in common? Plenty, says lead teacher for chemistry in Edinburgh Claire Ritchie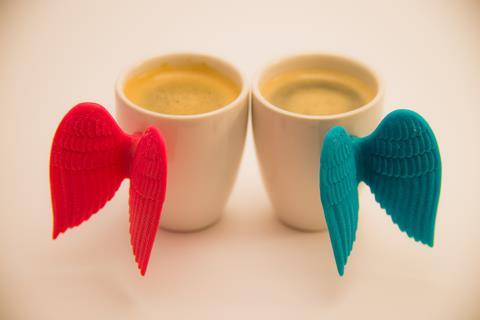 As lead teachers for chemistry in Edinburgh, Matthew Wilson and I are involved in setting up CPD opportunities and meetings for chemistry teachers in the city. Sharing the role means we can bounce ideas off one another, and one of Matthew's ideas was a speed dating-style event with industrial partners.
The reason? Our desire to work more closely with industry. We wanted to see how they could help us in our teaching practice and how we could use any ideas or contacts to enhance our young people's learning. We wanted to empower teachers to link with other agencies and to support each other. With all these thoughts bouncing around, we looked for a way to put them into action. We hope our ideas can help you and others in the UK chemistry community set up similar events.
Let's go speed dating
Our first step was to meet a representative from the University of Edinburgh and our local RSC education coordinator. We discussed the format of the event, decided on an appropriate venue and pooled contacts that might be interested in attending. The critical step in enabling our idea to come to fruition was applying to the RSC Chemistry teaching event empowerment fund, which provides financial support for organising events to bring teachers together.
The speed dating format proved advantageous, with the timed chats serving as an icebreaker
Speed dating's format of short, timed conversations in a circuit is very structured. We wanted to also offer our speed daters the opportunity for less structured interactions, so we finished the event with refreshments and more relaxed networking. This proved conducive to further discussion and generation of positive leads – something that's more difficult in brief meetings in rushed environments. Socialising with each other outside of a formal setting or the usual meetings in school classrooms helped people to make new contacts, refresh old ones and build informal support networks.
The speed dating format proved advantageous, with the timed chats serving as an icebreaker. The subsequent discussions were lively and productive, centring on what industrial partners could offer classroom teachers and what teachers would ideally like to be offered – for example opportunities to take students to see a lab or in-school programmes on various topics. At future events we would build in more opportunities for in-depth dialogue, to help explore ideas in more detail.
Reaping the benefits
For teachers, the benefits were twofold: networking with colleagues across Edinburgh and networking with industry. They found the chance to talk to outreach officers and gained interesting ideas to put into practice in their schools, as well as contacts who could provide opportunities to benefit students. The refreshments were the catalyst for networking that we had hoped, with colleagues talking, sharing ideas and coming up with innovative solutions to problems, as well as discussing issues affecting our teaching.
For those from industry, the main benefit was the opportunity to meet teachers from the authority, with comments such as that it was 'great to meet teachers and see how we can work together'.
Supporting chemistry teachers reaffirms our desire to inspire future generations of chemists
The big question, though, is how does it benefit our students? And the ultimate answer is: greatly.
Teachers came away with an idea of how local facilities such as university labs can be used to help students with experimental work. We all made contacts with industry and other schools, with suggestions of how to use these to provide enrichment to our classes. One group of teachers are now planning how they will collaborate to produce new materials for use in the classroom, while others said they are likely to seek outreach activities with the industrial partners.
Teachers also benefited from signposting to engaging materials which they could use in their lessons – in particular on the RSC Education website, which garnered a lot of praise! They were also more aware of funding opportunities, always a boon to cash strapped schools. In general, teachers came away enthused. Supporting the community of chemistry teachers with events such as these lifts the spirits and reaffirms our desire to inspire future generations of chemists.
Organise your own event
Learn from our experiences and consider these points when planning your speed dating event
Study the academic calendar and pick the time of year carefully. Avoid busy times when preparing students for exams takes priority.
Time spent on planning is not wasted, it's key to reaping the benefits of events.
Ensure a diverse spread of industrial partners from different backgrounds.
Ask colleagues to share their industry contacts; they might already have a wealth of helpful people.
Allow more time for conversation than you think – that way there's time for in-depth discussions.
Tell teachers beforehand who is coming so that they can prepare and make good use of their time in the short and snappy speed dating format.
Due to Covid-19, the RSC Chemistry teaching event empowerment fund is currently only accepting applications for events to run in 2020 if they are to be held online. For example, you could run a speed dating event via Zoom with the use of breakout rooms. Applications for events to be held from January 2021 onward can be for both face-to-face and online events.