We asked teachers for their favourite ways to end term on a high
The last lessons of term can prove a real effort to keep students focused. But they can also be a great chance to do some fabulous things you didn't have time (or an excuse) for earlier in the year. We asked teachers for their favourite end of term activities and this is what they said.
1. Escape the classroom
Start the holiday early – go to the beach! This isn't skiving; students can extract iodine from seaweed while practicing their solvent extraction and evaporation skills. While you're at it, why not make the beach trip cross-curricular and analyse the geography, biology or physics of the seashore with colleagues?
Field trips can be hard to fit in during the year, so take the opportunity now. Find out if your local university puts on a science event this time of year.
2. Get practical
It's a perfect time to fit in extra practicals, especially those that are fun, memorable, or get students out onto the playing field. These are Education in Chemistry readers' recommendations.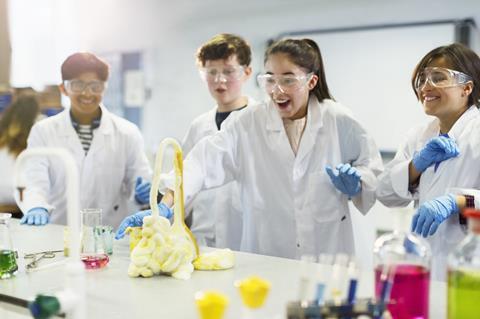 3. Whodunnit?
It's a tragic end to term …
Someone in the class has taken the school mascot! They leave a ransom note in blue ink. Students run chromatograms to match the ink to one of the five types of blue pens their classmates have.
Even worse, a body has been found in the lab. Request a Spectroscopy in a Suitcase visit and students can identify the criminal.
4. Game on
Pupils love a competition.
Get students to create wordsearches then swap them by first choosing a chemistry topic and writing out the keywords. Or, do crosswords backwards; provide students with completed crosswords and ask them to write the clues so other students could complete it.
It's easy to make Google quizzes. Students can also contribute questions.
Get really creative and devise or use a chemistry escape room challenge.
Explore the periodic table by playing Elements Top Trumps. Students could create their own cards.
5. Investigate
It's a good time for grand challenges and extended STEM investigations. Try lesson plans from Practical Action or CREST award resouces.
The Royal Society of Chemistry Global experiments come with comprehensive instructions and resources that can be tailored to different levels and lesson lengths. Investigations include what's the best UV-light blocking material and which hydrogel can hold the most water.
You could let pupils choose what to investigate. Students could vote for an experiment from a range of methods you pitch to them.
Thank you to all the teachers who shared their favourite end of term activities: Mark from Menthya College, Carolyn from Merthyr, Nic and Susan from Pontyclun, Sophia, Peter, Charles, Nicola, Kathryn, Claire and Vicky from Swansea, Geoff, Helen from North Wales FE College, Libby from Caerphilly, Edel and Sally from Barry, Helen from Mutford, Rosemary and Jules from Newport, Fernando from Llandovery, Amanda, Rhian, Gwyn and Jonathan from Cardiff, Jo from Rutland, Mike from Abingdon, Elin and Debbie from Llanelli, Jack from Hope, Owan from Llandysul, Alexandra from Pontypridd, Catriona from Llandovery, Kelly from Bridgend, Steve from Bangor, Elen from Llangynwyd, Richard from Morriston, Lucy from Port Talbot, Iwan from London