Practical work is as important as ever, but a lack of specialist science teachers and a focus on high stakes exams is sidelining lab time for students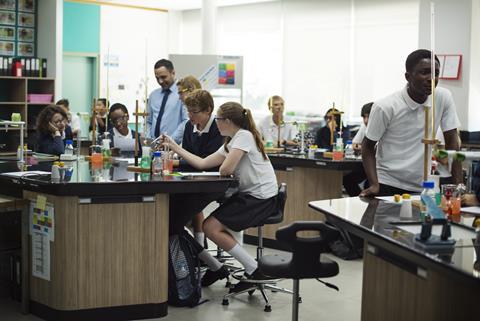 Good Practical Science, a new report for the Gatsby Foundation, assesses the state of practical science education in secondary schools in England. It outlines 10 benchmarks for good lab teaching, including expert teachers, frequent and varied practical science, and technical support.
In developing these benchmarks, Sir John Holman, author of the report and president of the Royal Society of Chemistry, visited schools around the world to build a picture of excellent practical teaching.
The report highlights how the education system in England is putting practical experience for students at risk:
Practical science is important for learning, not only because doing experiments is a good way to learn scientific ideas and theories … Practical science shows students at first hand how scientists and technicians work. It engages students to follow science further.
But at a time when schools in England are under intense pressure to perform in written exams, practical science is at risk. We judge that many schools are making too little use of their often excellent practical science facilities. There is more to learning science than learning how to perform well in exams, important though that is.
How do schools measure up?
The report surveyed 400 secondary schools in England (about 10% of all secondary schools) to assess how they measure up to the benchmarks. Criteria included: having a clear purpose for practical science; teachers at post-16 level having a post-A-level qualification; and at least half of lessons involving direct practical activity.
No schools met more than seven of the 10 benchmarks, and 36% of schools did not meet any at all.
I think [practical science teaching in England] measures up pretty well by international standards

Sir John Holman
But the report admits that, 'Meeting all the criteria for all the benchmarks is demanding, and the survey confirms that most schools fall well short of achieving world-class practical science measured in this way.'
Speaking to Tes, John said, 'I think [practical science teaching in England] measures up pretty well by international standards.'
Making progress
Finally, the report makes recommendations to policymakers and school leaders about how to improve practical education.
Among the recommendations is an emphasis on training specialist teachers:
[For policymakers:]
Government-funded Subject Knowledge Enhancement (SKE) courses for prospective science teachers should include sufficient laboratory time to develop practical skills. Courses that are only delivered online cannot provide this experience.
[For schools:]
Schools should take a strategic approach, using a combination of shrewd recruitment, retention measures and CPD, to get a better proportion of science subject specialists in their science team.