Ofsted report lays blame at GCSE science exams
A new report by Ofsted claims that GCSE science does not sufficiently test practical skills. As a result it concludes that pupils are poorly prepared for further science learning or any job that involves science, as teachers do not see the need to teach practical skills thoroughly.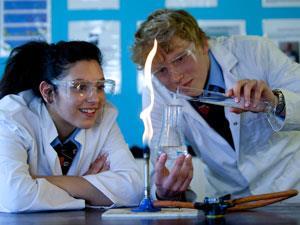 Ofsted aims to highlight the importance of teaching science for understanding. Their report argues that 'pupils in schools need to discover the concepts revealed through observing scientific phenomena and conducting experimental investigations for themselves. They are then more likely to continue to study science and use that learning for work, for family, and to contribute as informed citizens'.
However the report also reflects and explores the concerns often voiced by employers, higher education, and the scientific community's professional bodies, that too many school leavers are not well-enough equipped scientifically with practical, investigative and analytical skills.
Julia Buckingham, chair of SCORE (the science community representing education), said: 'we are extremely concerned that the design of practical assessment is not being given due consideration by Ofqual and the awarding organisations in the current reform of A-levels and GCSE qualifications.
'SCORE believes that the importance of doing science should be at the heart of any school planning for science. In May 2013 we released the Resourcing School Science in primary and secondary schools reports which published research into whether schools are resourced adequately to teach an authentic experience of practical science; the resultant SCORE benchmarks for practical work support visionary teaching and leadership in science.
An Ofqual spokesperson responded: 'We understand how important practical assessments are to science education. While we've decided that exams should be the default method of assessment for new GCSEs, we recognise that in some subjects not all of the required skills can be assessed by exam.
'We have not decided how practical assessments will be used in the new GCSEs. We will balance the value of practical assessments against the risk of malpractice and the need for them to assess the right skills and deliver valid results. For A-levels, we found that the current assessments can be too predictable and we're consulting on proposals to address that.'
Ofsted surveyed 89 secondary schools between 2010 and 2013. It found that the best teaching was driven by determined subject leadership that put scientific enquiry at the heart of science teaching and coupled it with substantial expertise in how pupils learn science.