Share your teaching methods at an international education conference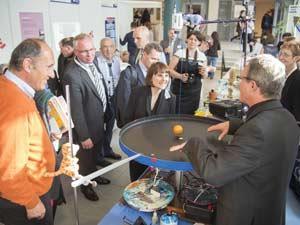 Science on Stage Europe is looking for science teachers to exchange their techniques and best practices at an education festival in London in 2015.
From 17–20 June, more than 350 primary and secondary teachers from Europe and Canada will meet to network and share their views and ideas on educational issues. The event aims to improve the quality of teaching by inspiring teachers and informing them about scientific research.
Science on Stage is inviting teachers to contribute an exhibit, workshop, seminar or stage performance. Projects should promote inquiry-based learning and fit within one of six themes: science and our sustainable world, inclusive science, innovation in science education, creativity in science education, science and its applications or cooperation between countries.
The last festival, held in 2013 in both Poland and Germany, attracted teachers from 25 different countries. It included sessions on using a virtual world to make geometry classes more exciting, connecting poetry with chemistry and the science of denim. Follow-up activities, such as 'smartphones in science teaching', were organised throughout Europe to inspire teachers who were not able to attend the festival.
Participants are selected by the national steering committee in each country. Application deadlines vary – 20 October for teachers in the UK. Visit the Science on Stage Europe website for more information.