Proposals from the Augar review will affect chemistry teaching – but we're not sure how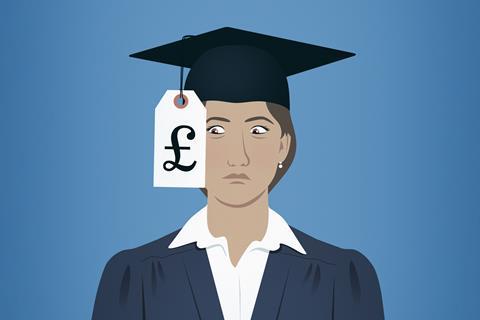 Reading coverage of the Augar review in the national media during the last few weeks has been an interesting occupation. In case you've forgotten (all too easy to do when Brexit has dominated politics), Prime Minister Theresa May commissioned the Augar review back in February 2018. Following the better-than-expected showing from the Labour party – promising to scrap tuition fees – at the last general election, the independent panel chaired by Philip Augar took a long look at post-18 education funding.
If you're a secondary chemistry teacher, what does the Augar report mean for you? And for your students?
The recommendations include: tuition fees going down, loan repayment interest rates and terms changing and maintenance grants returning for those from lower-income households. They could affect students heading to university from next autumn. On the face of it, these bare bones seem like good news for those sitting A-levels next summer and hoping to head to university. Dig deeper though and there is cause for worry.
Will this lead to more chemistry department closures?
The proposed reduction in tuition fees could harm university chemistry departments, warns the chair of the Heads of Chemistry UK, Nick Norman. He suggests the government would need to bridge the funding gap as universities attempt to redistribute funding from lower- to higher-cost subjects. If the government accepts the proposal and doesn't step in, will this lead to more chemistry department closures, offering students even fewer opportunities to continue chemistry to HE?
Under the proposals, from 2020/21 students would repay their loans over 40 years rather than the current 30 and the interest rate would reduce. This might sound like an improvement, but it's not. It could increase the number who repay their loans in full, instead of having them written off. The threshold at which repayment starts could also drop, from £25,000 to £23,000. Consultants, London Economics crunched the numbers and estimate this would be good news for some graduates, but not all. Lower and middle earners would be likely to repay more in the long run. London Economics also believes lifetime repayments for lower-earning, proportionally female, graduates could double, while they'd drop for some high-earning, proportionally male, graduates.
For those from lower-income households hoping to start university next year, the proposed introduction of a means-tested maintenance grant might offer a glimmer of hope. But how much difference would £3000 a year make? Depending on where they study, it might pay their rent. It makes the £2265 I received 30 years ago sound like a fortune. It wasn't then, it certainly isn't now.
The Augar review isn't just relevant reading for those looking to continue their education at university. It also includes recommendations for FE. Proposals such as overhauling and simplifying provision of level 4 and 5 qualifications could increase uptake. The review also recommends matching loans for those doing level 4 and 5 qualifications in FE to the same level as HE, potentially making it a more tempting opportunity for students. If adopted, these proposals could increase participation in FE, just as the drive to widen participation in higher education did.
There's the crux though. These are recommendations, delivered by a review commissioned by Theresa May, the outgoing prime minister. Whichever of the remaining two hopefuls in the Conservative party leadership election enters Number 10 later this month could cherry-pick from the recommendations, or even ignore them. Plus ça change?