Chemistry education: best practices, opportunities and trends
Javier García-Martínez and Elena Serrano-Torregrosa (eds)
Wiley
2015 | 792pp | £150 (HB)
ISBN 9783527336050
http://amzn.to/1PQbP4C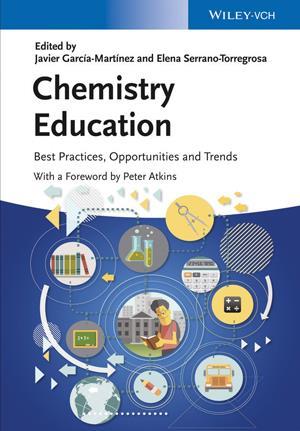 The editors of Chemistry Education have assembled an impressive team of contributors for this multi-author tome on topics in chemical education. Their goal is to provide a practitioner's guide to a great variety of solutions presented in the literature to everyday challenges faced by those teaching chemistry at secondary and tertiary level.
The opening chapter begins by debating chemical education versus chemistry education. I encourage every aspirant academic working in the field to read it.
The blurb describes the text as 'comprehensive' and I am hard-pressed to point to a significant omission. There are sections on enquiry-led and blended learning pedagogies. It even covers developments as recent as MOOCs. However, I fear the inclusion of a review of apps is doomed to rapid obsolescence. Perhaps the editors could have included specific advice for the aspiring chemistry education researcher of the ilk provided by Keith Taber's excellent editorials in Chemistry Education Research and Practice. There is a tendency for us to keep rehearsing the same errors and propagating the same myths. For instance, I have some concern about the treatment of the Dale pyramid in chapter 4.1: 'Although the pyramid is not based on research evidence, it is a powerful way to communicate the assumed effects of active learning.' As a community still establishing our credibility and value, we need to be better than this.
The intended focus was to provide a practice-orientated approach and I believe the editors have succeeded. However, there is enough pedagogical and philosophical underpinning for the purist aficionado.
How then should this book be used? I have no hesitation in recommending it, primarily as a reference work. Begin by reading the foreword by Peter Atkins. The editors' preface provides an excellent summary and invaluable tool to selecting the chapter that will provide the appropriate illuminating review.
Purchase Chemistry education: best practices, opportunities and trends from Amazon.co.uk