Meet Katherine Curran, a chemist applying her polymer know-how to the conservation of plastic museum objects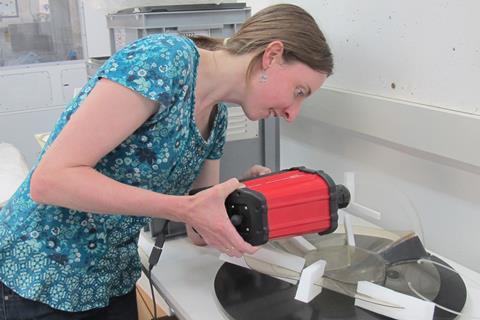 As a child, Katherine Curran remembers pestering her parents to let her conduct experiments using a children's chemistry set. This early interest in science led to a chemistry degree at University College Dublin, Ireland. It was during her undergrad lab classes that Katherine's career ambitions started to crystallise. 'We were supervised by PhD students and I realised that they were spending all of their time working in labs, solving scientific problems in an academic environment. I hadn't properly understood before then that this was really a job,' she explains.
Katherine stayed on at University College Dublin for a PhD and then a postdoc, both in polymer chemistry. A second polymer chemistry postdoc followed, at the University of Illinois at Urbana–Champaign in the US. In 2011, when looking for her next role, Katherine spotted a postdoc at the UCL Institute for Sustainable Heritage. 'At school, I enjoyed history, literature and also science. The opportunity to use what I had learned about polymer chemistry in a more cross-disciplinary context was really appealing,' she says.
Two years later, a lectureship post became vacant at the institute. Katherine applied and the rest – as the saying goes – is history. Katherine's research focuses on the preventive conservation of plastic objects in museum collections. Items she works on range in age from those produced in the late 19th century through to those being made today.
Katherine uses analytical chemistry techniques to uncover a plastic object's component parts and to understand how its chemistry might be changing over time. 'Understanding the vulnerabilities of objects allows decisions to be made about how to store them to slow down degradation,' she explains. A particular speciality of hers is measuring the volatile organic compounds (VOCs) being emitted into the air by plastic objects.
What preventive options are available to slow plastic degradation in museums?
It's all about controlling the environment they are kept in. There is no one-size-fits-all approach; conditions required depend on the chemical reactions each object is vulnerable to. Relative humidity, temperature and ventilation are the three main things to consider.
What information can be deciphered from the VOCs a plastic object is emitting?
When analysing heritage materials, the analysis methods need to be as non-invasive as possible to avoid damaging the objects. Only a limited number of the analytical techniques available within chemistry are appropriate for use on heritage objects for this reason. VOC analysis lets us do chemical analysis of the composition of a material without needing to touch it.
What are the largest challenges for plastic conservation?
The variety of plastic materials. Often the base polymer in a plastic artefact is unknown and a lot of museums don't have the resources to find this out.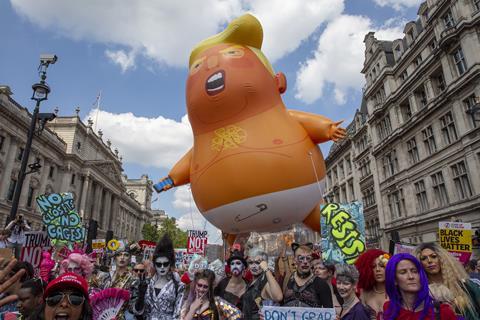 What's your favourite analytical technique and why?
Nuclear magnetic resonance (NMR) spectroscopy. I've loved it since my PhD because of the amount of detail it can provide about the structure of small molecules. NMR is used hugely in synthetic chemistry, but it's not used very much in heritage science. We recently published a paper on using NMR spectroscopy to study plasticisers in historic plastics, which I hope will raise awareness about the technique's value to heritage science.
What's the most memorable plastic museum object that you've analysed?
The Trump baby blimp, a PVC [polyvinyl chloride] inflatable that was flown in protests when US President Trump was in London in 2018. It was recently acquired by the Museum of London and we will be working with them to study its composition and help plan its conservation. That's really exciting, because it's such a fantastic piece of political protest.
If you could make any scientific discovery in the future, what would it be?
Although my research revolves around the degradation of plastic heritage objects, the research we're doing has implications for the degradation of plastic waste in the natural environment. I would like in a couple of decades to look back and think that I have made a significant contribution to our understanding of the way plastics break down in both of these contexts.
What did you enjoy most about chemistry lessons at school?
There were a group of us in my chemistry class as teenagers who really enjoyed the subject and we had a good teacher. Working with my classmates and enjoying chemistry together definitely had an impact on me. That's still something I really enjoy in science, there is so much collaboration.
If you could send any message to your younger self, what would it be?
That it's possible to have a career that involves solving interesting scientific problems every day. And you don't need to choose between the arts and science; it will be possible to combine both in a career.

Nina is a freelance science writer and editor specialising in chemistry.