John Dexter ponders what needs to be done to help teachers fulfil their potential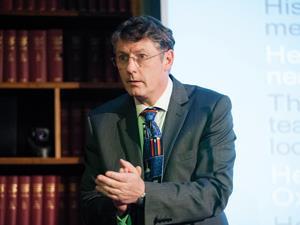 The Royal Society of Chemistry has a new report out calling for action on the training of chemistry teachers. It highlights the importance of chemistry to the economy, the need for a highly qualified workforce, and promotes chemistry as a problem solving subject with a wide variety of global opportunities. Teachers will be delighted, but not surprised, to read 'the paths to careers in chemistry ... starts at school'.
In line with findings from the Programme for International Student Assessment (PISA) international surveys, the RSC reports a depressing reality of how much more successful our international counterparts are at providing high quality science teaching. I don't go much by these reports, but I am not complacent. We do need to keep challenging ourselves and lifting our game. But teaching, learning and attainment is quite complex, it depends on so many aspects: teachers, schools, pupils, families, cultures, employment prospects, media and even political decisions.
Help at our fingertips
I've been teaching chemistry in the comprehensive classroom for over 30  years and it hasn't slipped my notice what a great subject I teach. It can be exciting, intellectually stimulating and certainly challenging. Chemistry has some of the best stories and can be promoted through applications from much of our everyday life.
Today we have great resources to call upon: I can contact a few hundred chemists and get immediate responses through Twitter and can point my students to great blogs and online news articles. Do you remember how hard it once was to find 'wider reading'? The RSC through Learn Chemistry is working effectively with teachers to see how best to organise, use and access these resources. But the statement in the report that all this is only as good as the teacher at the front, is so right.
The continuing professional development (CPD) work of the RSC is crucial but it is only scratching the surface: running just 614 sessions in 2013 when there are over 3000 maintained secondary schools in England alone. Even so, I can vouch that providers such as the RSC and the National Science Learning Centre do produce quality training.
There is something I would take issue with within the report, the idea that subject-specialist teaching greatly enhances science education. Non-chemistry specialists can be good; in fact they can be outstanding especially if they have a good understanding of the complex world of teaching and learning. On the other hand some graduates with highly specialised chemical knowledge can be a disaster. My old alma mater is a top university for chemistry, but back in my day, the teaching wasn't all great.
The crux of the matter
The main three classroom issues most teachers are concerned about are pupil behaviour, workload and curriculum content and assessment. Chemistry teachers must have good behaviour in their lessons: I defy anyone to manipulate chemicals for a proper demonstration, give some patter, and watch for daft behaviour. Pupil behaviour may be outside the RSC's control, but it must continue to bring pressure in the other two areas.
The workload of a teacher nowadays is complex. In the 1980s we just had a textbook, a few worksheets and a new-fangled OHP, but it still took preparation. Today there are many, many great ideas out there, but teachers struggle to assign the time to find and integrate them into their teaching. CPD chemistry trainers do a great job of inspiring teachers, allowing them to return to the classroom invigorated. But a plan is needed to allow teachers the time to do this on a regular basis. If I go off for a few days for CPD, who will teach my classes? Staff should also be given more time in school for research and online learning. Time off to visit another school, a university or a learning centre should also be permitted. The problem doesn't lie with the schools, they are bogged down with targets, pleasing Ofsted and meeting the requests of governors, parents and pupils.
Other mechanisms such as sharing teachers should be considered, however in a world of league tables I can see that sharing is unlikely. I have another radical suggestion however: a sabbatical period. A year (or even a term) back at university, akin to the highly successful RSC school teacher fellowships. After all, chemistry might have changed since we graduated, reading is not as good as hands on experience. The RSC could establish a pool of chemistry teachers available to cover temporarily.
We have a problem here: the quality of the person teaching the chemistry
The RSC should also not overlook its role in improving curriculum content and the assessment of qualification specifications. Awarding bodies must leave room in the curriculum for innovation or even inspiration. Heady summer days of lower sixth (pre-AS levels) used to allow students to try out innovative experiments followed by a visit to a local chemical or pharmaceutical company to test out the products. Visits to a local university department to see frontier chemistry also took place. Since the introduction of AS levels, this is no longer possible. Also, some of the practical assessment in specifications and its proposed abandonment from current curriculums won't inspire pupils. It is too prescriptive and not really what proper chemists do. My year 13 has just completed a Salters' Investigation; they generally enjoyed it and were even inspired by it because they were the chemistry problem-solver. The AS practical titration didn't really do that for them. Capturing enthusiasm, help us, please Ofqual?
I welcome the latest RSC report and its recommendations, a reminder of how important chemistry and how it is taught is to the country. Chemists are problem solvers and we have a problem here: 'the quality of the person teaching the chemistry.' The RSC has some notable ideas to solve it, but we must not overlook those three areas teachers worry about. If you can work to improve those aspects perhaps some of us in school could inspire the next generation of pupils to a) do our subject at university or as an apprenticeship and b) become teachers. Oh hang on … that's what we try to do every day.
John Dexter is deputy head at the Trinity Catholic School, Nottingham. He is also a member of the RSC Education Division Council