Students reflect on the chaos surrounding pre-university exam results
This year's cohort of A-level and Advanced Highers students have arguably had the most stressful of exam seasons. Not only did a pandemic bookend their last school year, but social distancing meant exams were cancelled, leaving the fate of their grades in the hands of the wider education system. A few months ago, Education in Chemistry spoke with three A-level chemistry students as they nervously waited for their exam results. Now with their results in hand, some are breathing a sigh of relief, while others feel let down.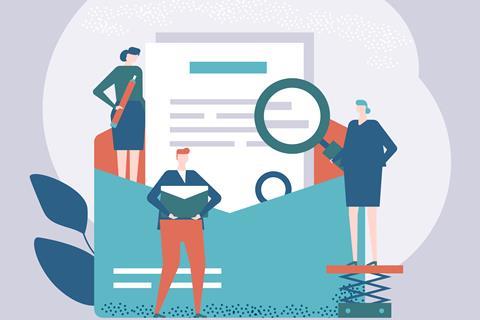 The results envelope
Prior to students in England being informed of the government's U-turn about how exam results were to be awarded, an algorithm saw over 40% of students receiving lower than expected grades in their results envelopes.
'I was a little bit disappointed,' says Henry from Cambridge of how he felt on results day. 'I think I was awarded a grade that was a lot lower than what I would have achieved had I sat the exam.' Having been awarded a Centre Assessment Grade A* in chemistry, Henry was shocked when he saw his final result was a B. He hopes to work in the chemical industry after university, and was worried his awarded grade would be an obstacle to finding employment in this sector.
Edward from Ascot says the algorithm worked in his favour. 'The grades that I got were slightly better than what I was expecting, to be honest,' he beams. 'They were slightly higher than my mock exam results, so it was quite a nice surprise.' Edward believes most students got the results they were expecting, but a handful did secure higher grades.
'I suppose the chaos around exam results was to be expected'
Kelsey from Berkshire is looking forward to studying chemistry after securing a place at her first-choice university, despite dropping a grade in another subject. 'In my mocks I got an A* in chemistry and in the results I got the same,' she says. 'I did go down one grade in one of my other subjects, but thankfully that didn't impact me getting into the university where I wanted to go. I know not everyone was that lucky.'
Reflecting on the uncertainty
'It was a very stressful experience,' admits Kelsey, who feels that the lines of communication between schools and their students could have been stronger. 'My school didn't really mention anything to us over summer about the grades this year, or what we were hearing on the news about how grades were going to be calculated.'
Edward also thinks communication with students has been limited. 'I haven't heard anything about where to get support or advice from my school.' He says he had been keeping up to date with the situation concerning exam results from the news, rather than from his school.
'It's not fair on the students to lower everyone's grades because the algorithm dictates that'
Although she agrees that things could have been handled better, Kelsey reasons it was a difficult task for teachers, schools and government. 'The pandemic was a new situation that schools needed to grapple with, so I suppose the chaos around exam results was to be expected.' She adds, 'There needs to be a better plan for next year.'
Henry echoes this and agrees that the education system faced significant challenges this year. 'They had a difficult job, because teachers and examiners won't know what a student should have achieved unless they sit the exam,' he says. Henry thinks it is unfair to blame teachers for the disappointment some students have faced. 'There are teachers that have been truthful and still want the best for their students,' he argues. 'Yet it's not fair on the students to then lower everyone's grades at that centre because someone thinks that sixth form is lying or that the algorithm dictates that grades at that centre should be lowered.'
Across the border
Just a week before students in England opened their results envelopes, students in Scotland were receiving their grades. Eilidh from Edinburgh, who had been due to sit her Higher in chemistry, didn't get the grade she had hoped for. 'Overall, my predicted grades weren't that different from the final ones that I was awarded,' she explains. 'But I was dropped a grade for one subject – chemistry – and I think that it really didn't reflect the amount of work I had put into that subject.'
Eilidh believes the method of calculating grades in Scotland was unfair, particularly for students attending lower achieving schools. 'My school happens to be in that category,' she says. 'And while there are the kids that put little to no effort into their classwork, there are also the ones who study for hours each day to ensure they earn the best possible grades.'
'Applying for university will probably be harder than normal for me and my year group'
Something that is playing on Eilidh's mind is the prospect of deja vu during next summer's exam season. 'I am a little worried for next year, because it's very possible that we could go into another lockdown,' she says. 'That would impact my learning greatly because of the lack of face-to-face time with my teachers, which is how I learn best.' She is concerned this will be to the detriment of her Advanced Higher exam results. What's more, she argues that places at university might be even more competitive next year, given that some students may have taken a year out of education due to the last-minute chaos. 'Applying for university will probably be harder than normal for me and my year group.'
This year's results day has certainly raised questions around the preparedness of the education system to fairly award grades to students that would have been sitting their exams. However, it has also highlighted the potential bias that exists within the sector towards students from disadvantaged backgrounds. Eilidh believes the exam results chaos has personified the notion of, in her words, 'if your family is poor, then you'll end up poor as well.'