Chemistry teacher Jackie shares how she's finding life in the slower lane after early retirement
Throughout my teaching career, I watched as colleagues approaching retirement crossed off school events in their calendar. The last carol service, the final set of reports, the last year 9 parents' evening. They would often talk of their plans for retirement, how they were going to enjoy their new-found freedom by travelling outside of school holidays, taking up new hobbies and having more time to spend on pursuits they enjoyed. I often wondered if I would feel such jubilation when my own retirement loomed, thinking about leaving the career I loved. In their final days in school, retiring colleagues would reminisce about memorable school trips, shows and classes, and they would enjoy tributes given by both pupils and colleagues. A fitting end to a successful career.
I have realised I am able to use my scientific knowledge and teaching skills in other ways
For me, it didn't happen that way. Instead, following a long period of sick leave, there was the realisation that I wouldn't be going back, not even on a part-time basis. I was struck by kidney failure shortly before the start of the Covid pandemic. My 'new normal' was travelling to hospital three times a week and adapting to dialysis treatment, which was not without its challenges, particularly with the constant threat of the dreaded virus. I tried to keep myself busy, reading and learning Spanish on Duolingo, but there seemed to be a lot more daytime TV than I would have anticipated.
After much soul searching, I left school in May 2021. By this time, I was training to do haemodialysis at home, a move which I felt could make a return to part-time teaching a possibility. However, a number of medical setbacks made even this seem unlikely. I had to face the fact that my 30-year teaching career was ending and look to moving forward.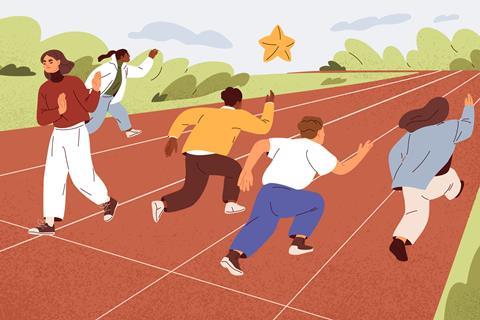 No turning back
Now a whole school year has gone by and I've settled into another 'new normal'. I have time to look after my health and enjoy meeting with friends and walking in the Lancashire countryside. I have also been able to return to the pool and pursue my lifelong love of swimming.
At times, it has been difficult to fill the days, with my children away at university. However, I have realised I am able to use my scientific knowledge and teaching skills in other ways. The 'Cancer Revolution' exhibition at Manchester's Science and Industry Museum opened the door to being a volunteer there. Although the exhibition has now moved on, I have accepted a more permanent voluntary position on the Object Handling team. I'm helping to engage young visitors and their families with the museum exhibits.
My subject knowledge and an insight into the examination system has allowed me to do a little tutoring and some A-level examining. I am hoping this will continue. I also undertook some proofreading and advisory work on a GCSE chemistry learning website, a task which developed my somewhat limited ICT skills and gave a sense of purpose to my days. Autumn plans include taking a photography course and musical pursuits.
To those who are unfortunate enough to find themselves in a similar position – being forced to consider retirement earlier than anticipated – I say there is definitely life after teaching. Of course, I still miss the daily 'buzz' of school life, the enthusiasm of the pupils and the camaraderie of my colleagues, but I have grown to accept that I need to put my health first. It is wonderful to have time to enjoy life and to know I still have something to offer society.
Who to talk to about early retirement
Find out if you can take your pension early from Teachers' Pensions: bit.ly/3DbfVWG
Read the National Education Union guidance's on retiring with ill health: bit.ly/3x8DxXZ
Use the Moneyhelper checklist to plan your finances: bit.ly/3Qw2zXI
Prepare yourself emotionally for finishing work: bit.ly/3ewpzsu
Make the most of your retirement with advice from the British Heart Foundation: bit.ly/3eAswsb
Talk to Citizens Advice about claiming your pension early and other benefits you may be entitled to.
Get support from your union.
If you're an RSC member, contact the Chemists' Community Fund for webinars and individual advice: rsc.li/3Rwmg2W

Jackie Yates is a former chemistry teacher and head of chemistry and is now applying her scientific and teaching skills to tutoring, examining and a voluntary role at the Museum of Science and Industry.
View full profile