Simple advice for getting started – and some things you may not know already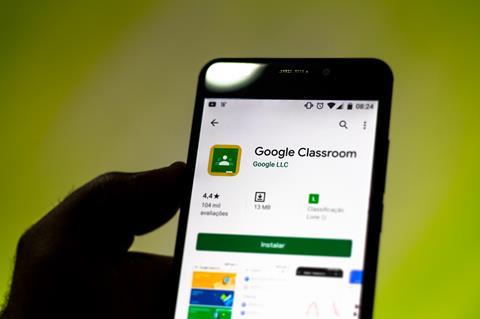 There are so many features you can explore on Google Classroom. The tips in this article focus on five areas: organising your classwork into topics, creating assignments, choosing suitable tasks and resources, scheduling tasks, keeping the stream organised and, finally, feeding back on pupil's work. For some of these you will need to reference the downloadable step-by-step guide.
Download this
A basic guide to making the most out of Google Classroom illustrating some of the tips in this article, including how to organise your classwork into topics, create and schedule an assignment, create a quiz and record your screen for attaching to an assignment.
1. Organise your classwork into topics
You can't search in Google Classroom – so create topics to organise your materials and posts to make it easier for pupils to find materials. See exactly how to do this in our downloadable guide.
2. Reuse and schedule assignments
On Google Classroom you can create assignments and quizzes, ask questions, as well as post material. Use the scheduling feature to select a date and time to release your assignment.
If you create a class for your department, you will be able to reuse posts that your colleagues have posted with your own classes. Learn how to do all this in thedownloadable guide.
When you create an assignment, you have a textbox to describe the task, as well as the option to attach extra content as supporting resources. Think about how you will use this when setting work.
For example, when describing the task, consider breaking it down into bite-sized chunks. As a school we are recapping material; in our department, we currently recap a specific topic each week. We set our assignment for the week on the Monday with the deadline of Friday. For pupils who are following their timetable, we break down what pupils should be doing lesson by lesson and task by task into small steps. For instance, for a task that involves a particularly large playlist containing 20 short videos, rather than asking pupils to watch the whole playlist, make notes and answer questions, instead instruct pupils to watch videos 1–6, make notes, answer some questions. Then ask them to do the same for videos 7–11, and then finally videos 11–20.
We also attach support material such as a knowledge organiser, PowerPoint or worked examples. Screen capture is a good way to model exam questions or deliver some trickier content. You may wish to use the screen capture feature found in PowerPoint to do this (you can record whatever is on your screen, not just within PowerPoint; find instructions in our downloadable guide).
Linda Hannon, who teachers chemistry at Castletroy College, Limerick, records voiceovers to go with her PowerPoint presentations and uploads them to Google Classroom. Her students like this approach because hearing her explain concepts brings a sense of normality into their 'remote classrooms'. You can also find her instructions at the end of the downloadable guide.
Some other great resources to try include: Free science lessons, Adam Boxer's videos, BBC Bitesize, Tassomai, Seneca learning, Oak National Academy.
4. Stay streamlined
In our school, we ask for the majority of the work to be completed in one Google Doc to limit how much is being submitted – we feel we can check who is engaging more easily this way. Pupils are also encouraged to use their knowledge organisers or revision guides to help them complete tasks, and we ask that Tassomai is kept on 4/7 daily goals.
You may wish to encourage pupils to use the private comment feature to ask questions so your assignment doesn't get lost in the stream. Alternatively, you can move your assignments back to the top of the stream.
While remote teaching we obviously can't ask questions in the same way, but using Google forms to create automatically marked quizzes is one effective way to check understanding. The results of these quizzes can then be used to help plan your next steps. A particularly useful feature of these Google Forms quizzes is that you can provide instant feedback and support to pupils who get questions wrong.
Release mark schemes for any exam questions you set so that pupils can self-asses their work. You may wish to occasionally do a screen capture where you can talk pupils through specifics or give whole-class feedback.
More ideas
Discover teachers' top tips to make the most of remote teaching technology in this Education in Chemistry article.
Find even more tips and tricks directly related to Google Classroom in this helpful 'cheat sheet' from a teacher called Tracy Bazsika that has been making its way around the twittersphere.
Share your own tips with your colleagues in the comments below or on Twitter @RSC_EiC.
Downloads
Handout | PDF, Size 2.23 mb