PISA and TIMSS show mixed results for the UK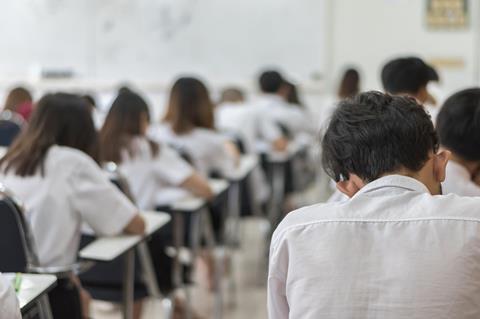 This month saw the publication of two major comparability studies that together give a snapshot of primary and secondary education in science, mathematics and literacy around the world.
Over 600,000 pupils from 57 countries took part in the 2015 TIMSS (Trends in International Mathematics and Science Study). Published by the International Association for the Evaluation of Education Achievement (IEA), on a four-year cycle since 1995, TIMSS looks at what pupils know in science and maths at the ages of 10 and 14.
As in all previous TIMSS reports, East Asian countries – Singapore, Hong Kong, Chinese Taipei, Korea and Japan – were the highest performing countries in maths and science in both age groups. Pupils in England performed significantly above the international mean in both maths and science but its scores have remained static since the previous report.
Worries for teacher recruitment
Beyond the rankings, however, there are other messages for the UK's education systems to be gained from the data. For example, the attitudes of pupils in England to science and maths at both age groups was found to be more positive than the highest performing countries – pupils like learning maths and science; they find their teachers engaging; and they value these subjects.
But England was also notably different from other countries in teacher recruitment. Headteachers in England said they find it more difficult to fill vacancies in these subjects – around two thirds of Year 9 pupils are taught in schools where vacancies exist in both science and maths.
Moreover, teachers in England report lower levels of job satisfaction and challenging teaching conditions – citing too many teaching hours and difficulty keeping up with curriculum changes. This is particularly worrying as in England the findings point to a positive association between pupils' average achievement and the level of teachers' satisfaction.
John Holman, president of the Royal Society of Chemistry, commented, 'This country makes too frequent changes to the curriculum, which can be very demoralising for teachers.' In Singapore or Hong Kong, he says this doesn't happen, 'curriculum change is more measured and less frequent, and when it does happen there is a long process of consultation and they then go through a major programme of retraining teachers.'
Static results for England, declines for Scotland and Wales
The TIMSS study was followed by publication of the Programme for International Student Assessment (PISA). This study examines 15-year-olds' abilities in science, mathematics, and reading. It aims to find out how well, at the end of compulsory education, students can apply their knowledge to real-life situations. The study has been published by the Organisation for Economic Co-operation and Development (OECD) and over 500,000 students from around 70 countries participated.
As in TIMSS, east Asian countries dominated the highest positions in the PISA tables, with Singapore finishing top in all three subjects. England's performance has remained static since the last report in 2012, though it is higher in all three subjects than the other home nations. Students in England perform significantly above the OECD average in science and slightly above the OCED average in maths.
In contrast, Scotland has seen a small decline in its maths and science scores over the same period, and Wales has seen a significant decline in its science score. Edgar Jenkins, emeritus professor of science education at Leeds University, UK, said, 'Scotland has cause for concern, but the results could just be a "dip" as was the case for Ireland in an earlier round of testing. Wales has consistently performed worse than the rest of the UK, but major curriculum reforms are under way. This should serve as reminder for policymakers that current results reflect policy initiatives of the past, some as many as 10 years ago.'
Limitations of comparison
The PISA study also points to pupils being more positive about their experiences of learning and enjoying science than is the case across many other OECD countries, but again teacher shortages in science in England are a cause of concern for headteachers. Almost half of the secondary students in England are taught in schools where the headteacher believes staff shortages in science are hindering learning – compared to the OECD average of 30%.
There are also significant challenges for low-performing schools (as defined by Ofsted) in England. For example, whereas only 19% of headteachers of outstanding schools agreed their staff do not meet individual pupil needs, this increases to 42% in schools marked for improvement and 77% for schools marked as inadequate.
John Holman concludes, 'while it is important we compare ourselves internationally – we are in a competitive world and we cannot be complacent – we have to be very careful about drawing conclusions from the way people do things in other countries. Cultural differences play a huge part in a country's performance in these studies, and practices in other countries should not simply be cloned.'