A practical guide for nursery, primary and secondary teachers
Elly Barnes and Anna Carlile
Jessica Kingsley Publishers
2018 | 152pp | £14.99 (PB)
ISBN: 9781785923494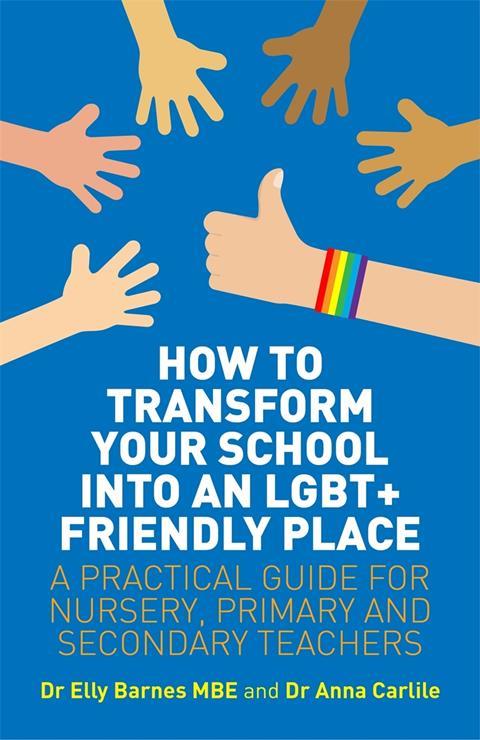 Schools can be hostile places for LGBT students – many report cases of bullying. How to transform your school into an LGBT+ friendly place, is a short, engaging and important book that aims to improve this situation.
The authors begin by laying out the case for why we need the book, giving the history of policy changes over the last 50 years. Notably, the legacy of section 28 has lingered long over schools; the silence on LGBT issues when I was at school in the 1980s is not that different 30 years later. Worry that discussing LGBT issues might cause controversy with some parents has been the main factor in its continued absence from discussion in recent years. Things are improving, however, with the Equality Act 2010 making 'sexual orientation' and 'becoming transsexual' protected characteristics. Ofsted also take how schools deal with LGBT-bullying seriously.
An important part of the book covers best practice for effective school policies on bullying and equal opportunities. After reading the book I have suggested some changes to my own school policies. Policies may seem dull but they do frame the response of a school. They can embolden teachers to deal with a casual homophobic comment in the same way they would a racist or sexist one. Simple steps like stamping out the use of the word 'gay' to mean 'bad' can make a difference.
The authors then outlines changes that could be made to a school curriculum and environment to make it more inclusive and feel more LGBT-friendly. Do resources and displays enforce heteronormativity or refer unnecessarily to gender? How are all the protected characteristics represented? It also makes suggestions about encouraging student voice, involving the wider community and how best to welcome transgender students and staff. Some ideas may be more useful than others, but even implementing a few could help create a positive environment in a school for LGBT pupils and staff.
I do think all school leaders need to read this book.
Purchase How to transform your school into an LGBT+ friendly place from Amazon.co.uk