Quickly find the most relevant resources for your lessons
When developing the new RSC Education website, user experience has been at the forefront of our focus. To help you easily navigate through our thousands of teaching resources, we've created the chemistry curriculum explorer.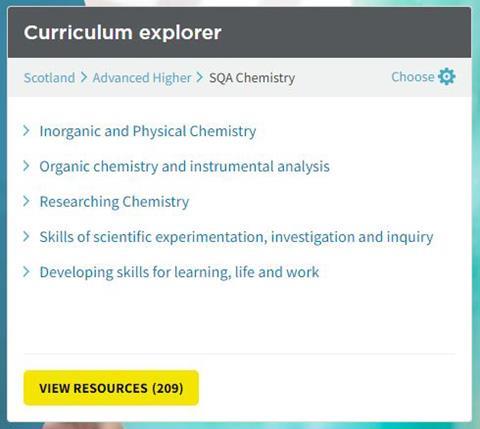 The curriculum explorer enables you to find resources mapped to the specification you teach, right down to the individual statements set out by each exam board. This mapping has been carried out by teachers who know the UK and Ireland syllabuses inside out, and covers the most popular courses in each nation.
This feature is exclusive to Teach Chemistry members. Once logged in, it's easy to find resources relevant to your specification using the curriculum explorer window on your homepage. Choose your qualification and specification, then drill down into different topics, subtopics and individual statements. At any point, click the 'view resources' button to see our selected resources for your chosen topic or statement.
'With the curriculum explorer, it's now easier than ever before for teachers to search through our thousands of resources and find high quality, relevant material to support their teaching,' says Stephen Hessey, the RSC's education content manager.
We know that you'll find the curriculum explorer a valuable tool in your teaching, click here to give it a try.