TALIS survey highlights low pay, long hours and limited prospects of England's teachers, but the government's ECF could offer hope
Demoralised, underpaid and burdened by responsibilities? Is this the reality for England's teachers? The government appears to have failed to tackle the underlying workload burdens on England's teachers and school leaders, according to OECD's Teaching and learning international survey (TALIS). The survey reports the views of 260,000 teachers and school leaders from 48 countries and reveals how England's workforce differs in several key ways.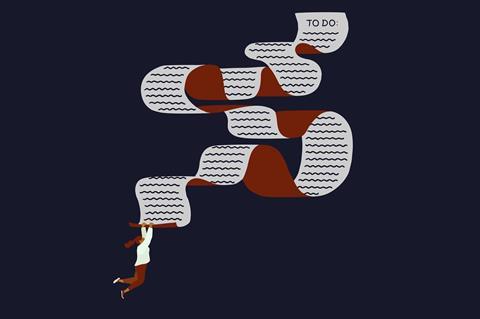 England's teachers are younger (an average of 39 years) than their OECD counterparts (44 years), they have less experience and feel less prepared in relation to subject knowledge and pedagogy. The survey also reveals that many teachers feel unable to access continuing professional development (CPD). Over half (56%) of secondary teachers said cost was a barrier, compared with 45% across the OECD; and 64% blamed their work schedule (54% OECD).
Pay and workload remain contentious issues. Almost 90% of England's teachers thought they are underpaid compared to professionals with similar levels of responsibility (74% in 2013). (This data is from 2018 before pay rises were announced last summer.) The government has been trying to cut teacher workload since 2014 yet TALIS shows no evidence of reductions since the last report in 2013. Full-time primary teachers in England work an average 52.1 hours a week and lower secondary (KS3) teachers 49.3 hours a week, an increase of just over an hour on 2013. What's more, England's part-time teachers are working the equivalent of a full-time working week (35.7 hours in primary and 36.1 in lower secondary).
The problem appears to be time spent on planning, marking and administration. England's teachers spend almost seven hours a week more on non-teaching tasks and one hour per week less on teaching than their OECD counterparts. However, on average teachers spend 80% of a typical lesson on teaching in England, compared to 78% in OECD countries.
Wake-up call
Teachers' unions say TALIS shows the government is failing teachers. 'The findings reveal a demoralised workforce, experiencing low pay, long hours, high turnover and heavy responsibilities without the resources or CPD they need to secure high-quality teaching and learning,' comments Mary Bousted, joint general secretary of the National Education Union. 'The findings should act as a wake-up call for any future prime minister. The government must end teachers' unsustainable workloads by tackling the high-stakes school accountability system, which is fuelling the long hours culture and driving teachers out of the profession.'
Alison Peacock, chief executive of the Chartered College of Teaching, echoes these sentiments. While she's heartened 'that the majority of our teachers still get into teaching to support the development of children and contribute to our society', she says it's unfortunate that 'there appears to be a mismatch between expectations and the reality of our classrooms, where the time spent on actual teaching and learning has decreased in the past five years and overall workload is among the highest of all OECD countries. We urgently need to address this if we are to improve levels of recruitment and retention.'
The Early career framework will increase the skills and confidence of new teachers
Emilie Sundorph, policy officer at Teach First, agrees. 'It has long been acknowledged that teachers in England face a higher workload than in many other jurisdictions around the world – particularly when it comes to workload outside of the classroom, as the TALIS data shows. In turn, it appears this (at least in part) is causing higher rates of attrition early on in teachers' careers as shown by the significantly younger workforce in England compared to elsewhere.'
What's more, science teachers face particular pressures on their workloads as they have to practise experiments and organise practical lessons, points out John Holman, senior adviser in education at the Wellcome Trust and the Gatsby Foundation, and emeritus professor in the chemistry department at the University of York. Also many science teachers teach outside their specialism so they have to spend additional time getting up to speed.
John finds it 'striking' that the average age of teachers in England is lower than the OECD average. 'Evidence is strong that more experienced teachers are more effective. Experience does count so retention is key.' He believes the Early career framework (ECF) – a fully-funded two-year package of training and support announced in January 2019 – will make a difference in supporting newly qualified teachers in the first few, although he believes it must be subject-specific and recognise specialists. But he warns that policy takes time to implement. 'This one has not even started yet so the government needs to stick with it.'
Positive step?
Despite the government's efforts over the past few years, TALIS provides further evidence of a teaching workforce under strain, says James Zuccollo, director for school workforce at the Education Policy Institute (EPI). With 57% of secondary school teachers reporting unmanageable workloads, there are serious implications for retention, he says.
Given that three secretaries of state over five years have tried to reduce workload, it is remarkable there is no change, comments Sam Sims of UCL Institute of Education. 'Current policy efforts have clearly been insufficient and the government needs to set out what it will do differently in the coming years.'
In England there is a stronger trend than elsewhere towards the least experienced teachers being in the most deprived areas

Emilie Sundorph, Teach First
However, the ECF is a positive step forward. Teach First's Emilie Sundorph, for example, believes the ECF will increase the skills and confidence of new teachers, and welcomes the retention payments for maths and physics teachers as a recognition of the challenging labour market. However, she adds it is important that other teachers also see an increase to early career pay, particularly in more deprived areas where it is more difficult to incentivise teachers to stay.
Emilie argues the government should add to their current efforts with additional school funding, allowing schools to increase teacher capacity. This is particularly important in deprived areas. 'The TALIS report also showed that in England there is a stronger trend than elsewhere towards the least experienced teachers being in the most deprived areas. We need to help these schools to retain their workforce and attract more experienced teachers.'
John Holman backs this up. 'The quality of education depends on the quality of teachers. This is a worldwide issue and a particular issue for science as qualified professionals have access to a wide range of other jobs. Compared to other countries, England's accountability system (such as OFSTED and performance tables) sits heavily on schools. This means we need to do everything we can to make teaching as attractive as possible.'
Maria is a science writer