Download our presentations and resources from our sessions at the ASE annual conference
In January 2021 the ASE held their annual conference entirely online for the first time. Explore all the sessions run by the Royal Society of Chemistry below, with presentations and resources available for download.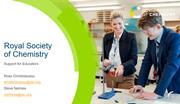 Wednesday 6 January
Royal Society of Chemistry ITT
Targeting our colleagues in secondary ITT, teaching or those likely to teach the chemical sciences, trainee teachers, prospective teachers and teachers, this event featured a Q&A session and chance to network.
Session with Steve Nelmes and Ross Christodoulou.
Download the resources
Supporting practical skills in chemistry
Allow us to help your learners' minds get the most out of getting hands-on. This session explores a variety of new resources and old favourites, as well as interactive experiments and a preview of our new practical video series.
Session with Juliet Kennard and Kirsty Patterson.
Download the resources
RSC practical skills slides MS Powerpoint
Thursday 7 January
Does remote professional learning work?
What will the future hold for remote professional learning and development? This session considers the remote professional learning and development from 2020 and the effects on classroom practice.
Session with Dr Stephanie Sdepanian.
Download the resources
Remote PD slides MS Powerpoint

Friday 8 January
Supporting student skills through primary to secondary transition
Find out more about the transition pilots that took place in Scotland and Isle of Man, and hear about the successes and challenges that teachers found. This session also covers some practical activities that teachers can use to develop and progress student science skills.
Session with Dr Stephanie Sdepanian and Dr Stephen Hendry.
Watch the talk
Visit the ASE website to watch all the recorded sessions from the ASE Annual Conference 2021.
RSC Primary Teaching Support
This session on RSC support for primary science provides a special preview of our new website for primary teachers, designed to make it easier for you to find all of our resources and support for teaching primary science. The session also included time for participants to discuss ideas to reinvigorate their science teaching in the new year.
Session with Chloe Francis, Kate Whetter and Laura-Alexandra Smith.
Download the resources
The benefits of mentoring on teacher retention
With funding from Education Scotland and the Educational Endowment Foundation, the Royal Society of Chemistry provided mentoring for around 100 newly qualified teachers. Our programme manager Dr Chrissie Maitland shares the impact of this scheme on the retention and well-being of teachers, with an opportunity for teachers to consider how mentoring could be used in their own setting.
Session with Dr Chrissie Maitland and Nicola Jordan.
Download the resources
Mentoring slides MS Powerpoint
Saturday 9 January
Adopt a scientist. Working with our members to support education
Our education coordinator Declan McGeown outlines how members in Northern Ireland worked with primary teachers to support pupil STEM learning and skills progression. The session included practical activities and information to support teachers to use external bodies to provide career information. This helps to enthuse and excite children about a career in STEM.
Session with Declan McGeown.
Download the resources