Download our presentations and resources from our sessions at the ASE annual conference
We'll keep this page updated as we upload the presentations and resources. Full details of all our sessions are on the our ASE annual conference page.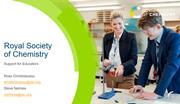 Wednesday 6 January
Interactive workshops
Thursday 7 January
Does remote professional learning work?
Friday 8 January
Supporting student skills through primary to secondary transition
RSC Primary Teaching Support
The benefits of mentoring on teacher retention
Saturday 9 January
Adopt a scientist. Working with our members to support education